Warren Pushes U.S. Regulators to Revisit Wall Street Swaps
Silla Brush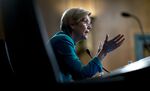 If Wall Street firms thought the backlash to its roll-back of stricter derivatives rules had died down, Senator Elizabeth Warren and a colleague in the House have different plans.
Warren, a Massachusetts Democrat, and Representative Elijah Cummings, a Maryland Democrat, are asking financial regulators including the Federal Reserve and Federal Deposit Insurance Corp. for information about how last year's easing of a key Dodd-Frank Act requirement exposes taxpayers to the risk of future bailouts.
The two lawmakers said JPMorgan Chase & Co., Citigroup Inc., Bank of America Corp. and Goldman Sachs Group Inc. provided insufficient responses to questions they sent earlier this year about the impact of the changes to the Dodd-Frank requirement that banks move certain types of swaps out of bank units that receive federal government benefits.
"Without this understanding, the country risks moving blindly toward the same financial meltdown that plunged the economy into recession seven years ago," Warren and Cummings wrote in letters released on Thursday. "We believe that if these banks want continued access to federally insured deposit funds, they must be more transparent about the risks they are taking with that money."
The four banks said in letters earlier this year that they couldn't provide certain information about swaps data because it's confidential commercial information that would hurt their ability to compete with rivals. The banks said they're obligated to protect such information.
Contentious Fight
Last year's battle over the so-called swaps pushout provision of Dodd-Frank was one of the most contentious fights since the law was enacted in 2010. The provision sought to reduce risk in the $700 trillion global swaps market and rein in risky trading on Wall Street.
Banks prevailed in December in a near-full repeal of the requirement after lobbying by the financial industry, including JPMorgan CEO Jamie Dimon pressing lawmakers to support the change. The banks have argued that the requirement presents unnecessary costs that complicate banks' ability to trade with their clients.
Spokesmen for JPMorgan, Citigroup, Bank of America and Goldman Sachs declined to comment.
The lawmakers are asking regulators to provide information about the impact of the repeal, assessments agencies have conducted about risks to the economy, and estimates on the amount of business that can be conducted in units with federal insurance.
Darren Gersh, a spokesman for the Federal Reserve, said the agency had received the letter and plans to respond. Spokesmen for the FDIC, OCC and the Commodity Futures Trading Commission declined to comment.
Warren and Cummings said it's "impossible for Congress and the American people to evaluate the risks we face" without "clear, quantifiable information."