U.K. Sells 10% of Lloyds in Past Five Months in Trading Plan
Stephen Morris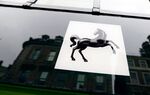 The U.K. government has sold 10 percent of Lloyds Banking Group Plc in the past five months through its trading plan, reducing its stake to less than 15 percent.
The latest disposal cuts the Britain's holding by 1 percentage point from the level reported on July 2, according to a statement on Thursday. The stake has dropped from 24.9 percent when the Treasury's trading plan started in December.
The sale of shares in Lloyds brings the total recovered for taxpayers to more than 13 billion pounds ($20 billion), according to a separate statement from the Treasury. Chancellor George Osborne said he'll start start returning Royal Bank of Scotland Group Plc to private ownership in the coming months, even though it may come at a loss for the taxpayer. The government owns about 79 percent after bailing out the lender.
"I am determined to build on this success, and to continue to return Lloyds to the private sector and reduce our national debt," Osborne said in the statement.
If the government sold its remaining stake in Lloyds at today's price, it would raise another 9.2 billion pounds, increasing the total to more than 21 billion pounds. That's almost 700 million pounds more than taxpayers spent to bail out the lender during the financial crisis.
Lloyds gained 0.4 percent to 86 pence at 9:14 a.m. in London trading. The stock has risen 13 percent this year.
Including cash and fees received from Lloyds, the government could recoup 5.3 billion pounds more than the 20.5 billion pounds it injected into Lloyds, Rothschild estimated in a June report. In contrast, selling the entire Treasury stake in RBS at the share price at the time of the report would have lost about 7 billion pounds, Rothschild said.
Lloyds, Britain's largest mortgage lender, led by Chief Executive Officer Antonio Horta-Osorio, 51, reports second-quarter earnings July 31.

Read this next: