Tom Colicchio's Healthy-Lunch Lobbying Fails to Sway Senators
For the restaurateur of "Top Chef" fame, the quest for cutting down on cheap, heavily processed food continues.
By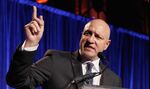 Sorry, Tom Colicchio. The senators who write the spending bills don't buy your argument that giving lunch ladies a little leeway would subject kids to too much cheap, heavily processed food.
A $20.5 billion draft measure approved today by the Senate Appropriations Committee would allow states to waive some nutrition rules on whole grains for districts that say complying would cost too much. Districts would have to show providing the grains causes them hardship, financial or otherwise.
The measure also would block full implementation of a low-sodium standard until more study is conducted. 
The language was adopted without any debate.
It's backed by the School Nutrition Association—which supported legislation implementing the standards in 2010 when they were enacted with the backing of First Lady Michelle Obama, and now favors allowing districts to opt out. Its members include ConAgra Foods Inc., Tyson Foods Inc. and Domino's Pizza Group Plc.
Schools that meet the nutrition rules get an extra few cents for each meal.
Colicchio, the restaurateur of "Top Chef" fame, has been lobbying for years on the subject of school lunches, including testimony before Congress in 2010.
"I hear people say, 'We would like to improve the school lunch program, but the kids, all they want to do is eat pizzas and burgers,'" Colicchio said in testimony to Congress in 2010. "We are adults here. It is up to us to do better."