Three Modern Takes on the Yuppie, Seventies-Era Cocktail Spot
The fern bar, with its sweet '70s drinks, is the new speakeasy in several U.S. cities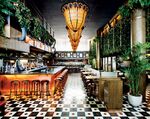 When bar impresario Joe Carroll opened Oleanders in June in Brooklyn, he didn't want to copy the speakeasies and burger pubs that dot many urban neighborhoods. So he went back—way back—to the fern bar, a concept from the 1970s named for its whitewashed, plant-abundant aesthetic.

The greenery was meant to appeal to professional women, who were joining the business world and going out as singles in unprecedented numbers. While meeting friends for happy hour, they sampled sweet cocktails and continental meals under the glow of Tiffany glass lamps. Men, of course, followed suit. Fern bars went out of style in the late '80s, but now Carroll and restaurateurs in other cities are updating them for a crowd that's too young to remember the first wave.


The Grasshopper
Tiki was trending until the late '60s, when U.S. cocktail culture was born and drinks like the Rob Roy and Harvey Wallbanger became hits. The Grasshopper was like a liquid version of an after-dinner Andes Mint. This update is less sweet, a bit herbaceous, and cooling on a warm night. 
Menthe-Pastille, a liqueur made by a French family since 1885, has a strong, minty bite. Oleanders adds a few drops of green food coloring to the bottle to make the drink prettier.
Make it at home:
· 1 oz. Giffard Menthe-Pastille
· 1 oz. Tempus Fugit Crème de Cacao
· 1 oz. half & half
· 2-3 sprays Jade 1901 absinthe
· 1 sprig fresh mint
Overfill a coupe with ice. In a shaker, mix first three ingredients. Pour over ice. Spray absinthe. Garnish with mint.
---
Two More Retro Takes
Honeycut
Los Angeles
This downtown spot, hidden in an alley, hums after work with professionals downing some of the 22 craft cocktails on the menu. Later, they flock to a replica Saturday Night Fever dance floor that gets surprisingly crowded as the evening wears on.
The Heavy Feather
Chicago
Opened in July above a popular dive in the Logan Square neighborhood, it has parquet floors, wood paneling, and very comfy bar chairs. Try the upscale version of an Amaretto Sour, which mixes two types of whiskey with egg white and lemon.
Before it's here, it's on the Bloomberg Terminal.
LEARN MORE