Republican Lawmakers Knew About the Planned Parenthood Video Weeks Ago
The House Energy and Commerce committee announced their investigation into the video on Wednesday.
By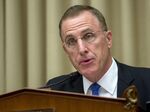 It only took a day for Republican lawmakers to launch an investigation into Planned Parenthood following an undercover video released Tuesday that appeared to show that the organization illegally profited off fetal tissue donations. But it turns out that at least two GOP representatives saw the video several weeks ago.
As Roll Call reported Thursday, Representative Tim Murphy, the chairman of the House Energy and Commerce committee which is investigating the video, said during a Wednesday press conference that he had seen the video several weeks ago. When Roll Call asked him why he didn't do anything about the video sooner, he said he didn't know. "Um, I don't know why," he told Roll Call. "All I know is I saw it and he said he was going to post it eventually, so that's all I know."
Representative Trent Franks of Arizona said he also saw the video a month ago, but said he wanted to gather more information before going to the authorities. 
The Republican members of the House Energy and Commerce committee announced Wednesday they would investigate the organization, and other Republican lawmakers have called on Congress to defund Planned Parenthood.
On Tuesday, Live Action News, an anti-abortion site, published a video, filmed undercover a year ago, that showed a senior Planned Parenthood official discussing the collection of fetal donations. Live Action said that the video showed the official discussing the illegal sale of fetal tissue for profit.
Planned Parenthood has denied that it profits from accepting fetal donations, noting that any funds it receives pay for the costs of accepting donations, which is legal and standard procedure, and says that it does not change the way it performs abortions to meet requests for donations. The organization has also pointed out that Live Action has a history of producing misleading and heavily edited videos attacking the organization. 
In a video released Thursday, Planned Parenthood president Cecile Richards denied the accusations. "I want to be really clear: The allegation that Planned Parenthood profits in any way from tissue donation is not true," Richards said. "Our donation programs–like any other high-quality health care providers–follow all laws and ethical guidelines."
Richards apologized for the clinical tone that Deborah Nucatola, the group's senior director of medical research, took in the video. "Our top priority is the compassionate care that we provide. In the video, one of our staff members speaks in a way that does not reflect that compassion. This is unacceptable, and I personally apologize for the staff member's tone and statements," she said.