Netflix Impressed Wall Street and Now Its Shares Are Soaring
Up 10 percent pre-market.
By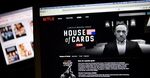 Netflix has been a Wall Street favorite throughout the year, with the company's shares more than doubling since the start of 2015 to hold the title of top performing stock in the S&P 500. The firm reported earnings last night, and beat on a number of important metrics such as the number of subscribers, sending shares up more than 10 percent pre-market.