Lil Wayne's Giant F-You to His Record Label
The rapper's label refused to release his last record. So he made a new one himself
By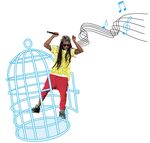 Lil Wayne's new album is not the one he wanted to put out. He finished Tha Carter V, the most recent edition to the New Orleans rapper's Carter series in December, but his label, Cash Money Records, won't release it. So on July 4, the heavily tattooed, slow-rapping stuntman furnished a different album on his own. The Free Weezy Album, now streaming on the subscription music service Tidal, is a giant F-You to his label. It's also a message that record executives can't hold him down. Except, actually, they can. And they are.
His beef with Cash Money started in December when he tweeted that the label was keeping Tha Carter V back, saying things like, "I want off this label and nothing to do with these people, but unfortunately it ain't that easy." Cash Money hasn't given a reason for the delay, but the album's supposedly a 31-song monstrosity, so one assumption is that it's of uneven quality, although it may also be a pawn in business negotiations. Several earlier Lil Wayne albums were also postponed—The Carter IV was stalled so long (partially because of Lil Wayne's stint in prison) that he put out a mixtape. It was called Sorry 4 the Wait.
In January, Lil Wayne released another mixtape, Sorry 4 the Wait 2, and sued Cash Money for $51 million, alleging that it cheated him out of an advance for Tha Carter V and refused to pay some overhead costs. According to Lil Wayne's lawyers, the two sides are trying to hash out a settlement in Louisiana state courts. Cash Money did not respond to a request for comment.
Whenever you hear that Beyoncé dropped a surprise album online or Taylor Swift yanked her music off iTunes, it sounds as if the artists are the ones with the power. But they pull these moves only if their business overlords let them. "When you're signed to an exclusive recording contract, you make music for the label and no one else," says Jeffrey Rabhan, chair of New York University's Clive Davis Institute of Recorded Music. Artists who release free mixtapes or tweet out singles before they're for sale are technically in breach, but labels often look the other way, because it's free publicity. The executives still hold the rights to a finished album and decide its release date. "I  don't think that's ever going to change," Rabhan says.
With Free Weezy, Lil Wayne is trying to subvert that system. First, he got Wiz Khalifa and Young Jeezy—two rappers on other labels—into the studio. Then he popped the completed songs onto Tidal, which has been scrambling to keep its estimated 900,000 users from bailing when their free memberships run out and they start owing about $20 monthly. As a Tidal co-investor, Lil Wayne may eventually see some of that money. And an exclusive album by him is a big deal for the service—assuming the music is any good. Sadly, it's not. (It's also leaked on many sites, where you can listen for free.)
The album has one bright spot. The first single, Glory, is a blustering, angry anthem that will make even meek listeners want to punch a wall. And Lil Wayne's signature raspy croak is in fine form. But for the most part, his tricks feel tired. Take I Feel Good, on which he raps, "I feel good / I knew that I would / and I'm still hood" as James Brown's saxophone loops in the background. The music is catchy, but the lyrics don't add anything. It's the opposite of his 2005 Hurricane Katrina anthem, Georgia Bush, where he rapped, "The white people smiling like everything cool / But I know people that died in that pool," then used Ray Charles's cries for Georgia to heighten the message.
At another point he describes a postcoital nap with, "I fell asleep like Whitney." As in Houston. In general, his once-clever rhymes elude him completely. That may explain why Cash Money is holding onto Tha Carter V until the producers feel it's ready. "Rest in peace to the Cash Money Weezy / Gone but not forgotten," Lil Wayne says in his replacement album's second song, He's Dead. At least he knows when to admit it. 
Before it's here, it's on the Bloomberg Terminal.
LEARN MORE