Iran Is About to Open for Business
The Iran nuclear agreement may unleash the country's mercantile instincts, which are undimmed by the regime's dark realities
By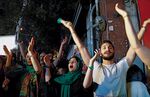 Mobile phones in Tehran started beeping and buzzing well before Iran's nuclear agreement with the West was finalized. They carried an important sentiment that couldn't wait for the niggling details to be ironed out in the talks between Iran, on one side, and China, France, Germany, Russia, the U.K., and the U.S. on the other. "Congratulations, the agreement is almost signed! Come dine with us for less," read the text from a local pizzeria. Discounts and specials celebrating the coming end of the sanctions pinged around the capital.
In the offices of Takhfifan, Iran's answer to Groupon, staffers interrupted their weekly meeting every 10 minutes to refresh the news on their laptops. "We're all counting the seconds," said Nazanin Daneshvar, the site's founder, hoping "that we'll get back to a better place after such a long, difficult time." Daneshvar's marketing platform is thriving: It boasts a million subscribers who grab daily deals on everything from concert tickets to swimming pool passes. An Iran reopened for global business could eventually bring in Western companies and investors, which might finally mean economic growth of a different scale. A normal scale.
Even normality—the most modest expectation—would be vastly different from the Tehran I last experienced in 2009, before that summer's Green Movement uprising. Like many dual-national Iranian journalists, I haven't dared to return since the violent suppression of the protests. (Reporter Jason Rezaian of the Washington Post has been detained on espionage charges for more than a year.) I've followed the country through family and friends, most of whom tell the same tale: six years of diminished hopes and sullenness, brought on by global economic ostracism.
The nuclear deal changes everything. The West—and most Americans—view a rapprochement with the Islamic Republic with uncertainty and some dread, but in Iran there's a thirst for reengagement. Ordinary Iranians and even some businesspeople predict the relief from sanctions will be quick and visceral. "There's simply a huge amount of key technology we either don't have access to or have to pay twice as much for under the table," says a prominent petrochemical industry figure, who asked not to be named because of security concerns. He says the cash-strapped government has been paying engineering companies with shiploads of oil. "It will be a relief simply getting paid with regular cash."
After the U.S. imposed banking sanctions in 2011, businesses faced crushing day-to-day challenges that made everything from obtaining letters of credit to buying spare parts and transferring money from abroad onerous. Even seemingly benign information was hard to get: "If you want to read a Harvard Business Review article, you have to jump through six hoops," says Ali Ghezelbash, co-founder of the European Iran Research Group. Getting onto the magazine's website was circuitous, requiring the use of private virtual networks and proxy servers; receiving a hard copy via subscription was impossible.
Iranian consumers—like my maternal aunt who bought her iPad at Tehran's Paytakht gadget bazaar for $600, a price so enormous in local terms that it made me gasp—say they hope a deal will mean better products and fairer prices. Young people like Bahram Naderi, 27, want to have access to the world again. The computer science graduate from Islamic Azad University used to be able to travel abroad once a year and purchase the occasional gadget to help him stay on top of his field. Three years ago, he started a master's business program at a college in Cyprus, but he had to quit and return to Iran when inflation spiked and the Iranian rial plummeted, halving his savings. "My dreams crumbled," he says. Inflation is lower today, and Naderi hopes the deal will bring costs down even more, making studying and traveling abroad again within reach of the middle class.
If you drive up and down Tehran, it's hard to know that Iran has been suffering. The city is cleaner and greener than before, according to Ghezelbash, who shuttles between Iran and Europe. "This has never been a place that was about to crumble," he says. "But the opportunity cost has been high." What a deal will do most immediately is restore enough optimism so Iranians will invest in their own country again. "That kind of psychology will take on a life of its own," he says. "If people are hopeful, they're likely to take more risks, get involved in entrepreneurship and new ventures."
Optimism does have its limits, though. Iran's labor force, while young and highly educated, isn't well-trained to meet the needs of international companies. Corruption and bureaucratic red tape are endemic. The country's darkest realities—the heavy-handed role of the Revolutionary Guards across the economy (dominating gas pipeline and infrastructure projects as well as critical industries such as telecommunications) and radical hard-liners itching to sabotage the rapprochement—stand as potential spoilers. Those powerful interests kept Iran isolated; until they're pushed to the political and economic margins, real growth will be elusive.
Takhfifan's Daneshvar says she's realistic: "It's going to take years for things to really change." For the tech business, where there has been an impressive number of startups despite high inflation and economic malaise, Iran's opening will bring as much anxiety as potential. Entrepreneurs expect rivals, backed by Western venture capitalists, to enter the market. If they don't buy or join with locals, they could pose tough challenges.
Yet the country's mercantile instincts are undeterred. Its urban classes were once cyber innocents: For years, my relatives would simply give their debit card PIN numbers to shopkeepers to enter for them. Now, almost everyone is savvy to e-commerce and online security. In Silicon Valley, thousands of entrepreneurs of Iranian descent, such as EBay founder Pierre Omidyar and Google executive Omid Kordestani, have been trailblazers in the tech industry; they could be looking for a moment to come back to Iran, make a fortune, and help rebuild their country. Some who dipped in during the moderate era of the early 2000s—before sanctions made business impossible—could rev up their operations again. Xanyar Kamangar, the Tehran-born founding partner at investment firm Griffon Capital, says, "This historic deal will pave the way for the opening of the last major frontier market."
The government may have resolved the diplomatic technicalities of its confrontation with the West, but it will have to contend with popular expectations. Many in the middle class want loftier change. "There's this underlying mood that there will be a wider opening up," says Nader Hemati, a property developer in Tehran. "People think if these sanctions are lifted, Iran's isolation will end and we'll suddenly have peaceful relations with the world."
A huge proportion of the middle class and even of the working classes hope for wider political and social transformation. Young people want free, fast access to the Internet. Journalists and writers want less censorship. They hope that with the threat of war and conflict receding, Iran's leadership will feel less beleaguered and more inclined to permit basic rights. President Hassan Rouhani promised all of these things from the same electoral podium he vowed to secure a nuclear deal.
The hopes may sound naive, but it's a sentiment that must now become part of the calculations of the country's rulers. More than sentiment, the market will come into play. "Increased competition will benefit consumers and investors," Ghezelbash says, "but in a roundabout way, also the domestic companies that have been shielded from it. In business, as in nature, there is a limit to how much you can grow while insulated." The transparency demanded by global business dealings may help reform the monopolies that benefited regime cronies, making them less dependent and beholden to the ideologues who run the government. As the Iranian market grows competitive, those who've prospered under the sanctions stand to lose the most when sanctions are lifted.
 
Moaveni is a former Tehran correspondent for Time magazine and the author of Lipstick Jihad. She lives in London.
Before it's here, it's on the Bloomberg Terminal.
LEARN MORE