European Stocks Advance as ECB Increases Greek Bank Assistance
Alan Soughley and Sofia Horta e Costa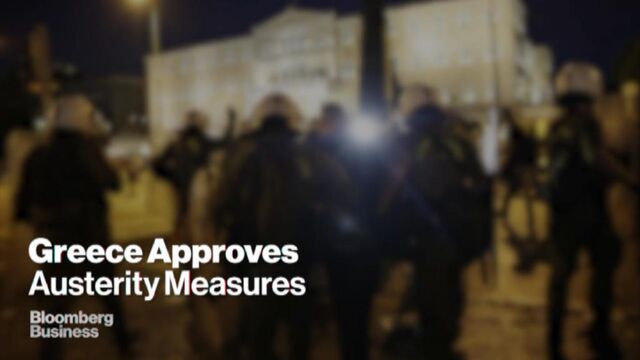 Stocks in Europe rose for a seventh day as the European Central Bank increased emergency liquidity assistance to Greece and President Mario Draghi said market uncertainty hasn't derailed the economic recovery.
The Stoxx Europe 600 Index added 1.4 percent to 405.43 at the close of trading, capping its longest winning streak since January. Optimism over a resolution of the Greek crisis has helped the Stoxx 600 rebound 8.8 percent from a July 7 low, after falling almost 10 percent from an April record. Federal Reserve Chair Janet Yellen on Wednesday delivered an upbeat message on the U.S. economy and repeated that the Fed is likely to raise rates this year.
"Greece supports the QE program in Europe for longer," said Daniel Weston, chief investment officer of Aimed Capital in Munich, Germany. "A rate rise in the U.S. is all but certain in the coming quarters, helping to drive the euro down and benefiting the export economies. I'm optimistic regarding the economic recovery in Europe."
Equity gauges in Italy, Spain and Germany were among the biggest gainers, rising at least 1.5 percent. A measure of automakers posted the largest advance of the 19 industry groups on the Stoxx 600 after data showed European car sales last month rose at the fastest pace since 2009. Daimler AG and BMW AG climbed at least 2.2 percent.
Speaking in Frankfurt after the ECB held interest rates unchanged today, Draghi sought to draw a line under the Greek crisis, confirming the nation's place in the euro, as the central bank decided to raise funding to its lenders by 900 million euros ($980 million). He also said that Europe's economic pickup is proceeding and increased uncertainty in financial markets isn't hindering a broadening of that recovery.
Greek Approval
Early Thursday, Greek lawmakers passed new austerity measures that are a precondition for as much as 86 billion euros in aid. The bailout must be approved in several euro-area parliaments, including Germany's, with Greece facing a debt repayment to the European Central Bank on July 20. In the meantime, euro-area finance ministers agreed in principle to extend a 7 billion-euro bridge loan to Greece.
The International Monetary Fund has said that the Mediterranean nation needs more debt relief than the creditors have proposed.
A U.S.-listed exchange-traded fund tracking Greek equities gained 1.4 percent in New York trading. American depositary receipts of National Bank of Greece SA slid 3 percent.
Among stocks moving on corporate news, Swatch Group AG added 5.2 percent after posting first-half profit that beat analysts' estimates and forecasting a strong end to the year.
Alfa Laval AB jumped 13 percent, the most since December 2008, after reporting better-than-expected quarterly profit on higher demand for marine equipment as well as service orders.
Partners Group Holding AG added 6.5 percent after the Swiss private-equity investor raised its annual forecast for expected client commitments.