Elon Musk Helps California Rank No. 1 for Hillary Clinton Fundraising
Facebook's Sheryl Sandberg, Dreamworks co-founder Steven Spielberg, and actor Leonardo DiCaprio also join in.
By and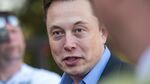 Tesla's Elon Musk, Facebook's Sheryl Sandberg, Dreamworks co-founder Steven Spielberg, and actor Leonardo DiCaprio are among the Silicon Valley and Hollywood stars making California the No. 1 state for Hillary Clinton's presidential campaign fundraising last quarter.
Clinton, the front-runner among five candidates seeking the Democratic Party's nomination, raised $8.1 million in the largest U.S. state, 17 percent of the nearly $47 million she took in from contributors during the quarter that ended in June, according to a filing Wednesday with the Federal Election Commission.
The early support in California underscores the importance of the state to Democrats, who have long sought support from its wealthy entertainers and entrepreneurs. The list also included Dreamworks Chief Executive Officer Jeffrey Katzenberg, one of the biggest Democratic donors.
Creative Artists Agency ranked among the best places for Clinton to raise money during the period. More than 50 employees from the Los Angeles-based talent agency donated a total of more than $80,000. Other top California money sources included employees at Facebook and Google.

"I'd like to see her as president," Sandberg, Facebook's chief operating officer, told Bloomberg Television in April. "And I'd like to see more women presidents all over the world."
More than 30 employees, including Gary Briggs, the chief marketing officer, joined Sandberg in donating about $40,000 to Clinton. More than 100 Google employees, including some from New York offices, joined Susan Wojcicki, the company's YouTube CEO, in giving a total of more than $57,000.
Dreamworks' Spielberg, Tesla's Musk, power-agent Ari Emanuel of WME, and EBay CEO John Donahoe are also on the list of donors along with celebrities such as DiCaprio, Tobey Maguire, Dakota Fanning, Ben Affleck, and Chris Meledandri, the Oscar-nominated founder and chief executive officer of Illumination. Meledandri is a producer of the billion-dollar generating Despicable Me film franchise and prequel Minions, which topped the box office in theaters in the U.S and Canada this week.