Getting High on Their Own Supply
Corporate stock buybacks put a floor under earnings
By and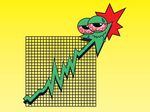 Wall Street analysts are gloomy about corporate performance in the second quarter, predicting that profits fell 6.5 percent. If companies weren't buying so much of their own stock, the drop could be much worse: 9 percent. "It makes you rethink a lot of things," says Kevin Mahn, president of Hennion & Walsh Asset Management. "We question how much earnings growth has taken place because of actual sales growth and consumer spending—and how much is attributable to buybacks."
Corporations report profits as earnings per share (EPS). By reducing the number of shares outstanding, buybacks help increase a company's EPS. The impact of buybacks was harder to see in the first three years of the bull market, when ballooning profit margins helped companies in the Standard & Poor's 500-stock index almost double their earnings. Now that margin growth has flattened out, buybacks' contribution is more significant. Companies in the S&P 500 bought more than $550 billion of their own stock last year, boosting EPS growth by 2.3 percentage points, according to data compiled by Bloomberg.
The last time buybacks contributed as much to profits was in 2007, when companies spent the most ever on their own stock and enhanced that year's increase in EPS by 3.1 percentage points. "Today the argument is buybacks are distorting the market, but I'm less certain," says Dan Greenhaus, chief global strategist at BTIG, which provides trading services to institutional investors. "To the extent companies have thought their shares are undervalued the past few years, buybacks have been a fair use."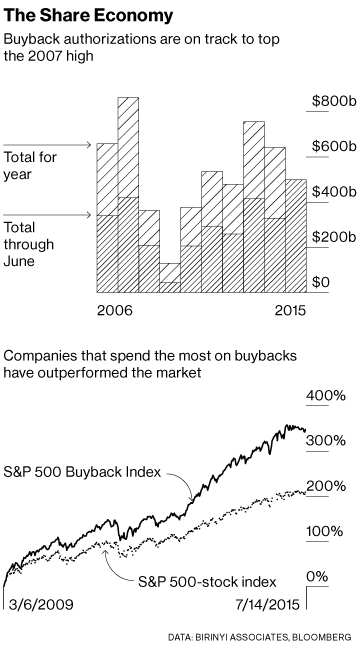 Buyback announcements so far in 2015 have already topped full-year totals for 2008, 2009, 2010, and 2012, and they're on pace to reach an annual record of $993 billion, according to Birinyi Associates. AIG announced a $3.5 billion share repurchase plan in April, and in June, Wendy's said it would buy $1.4 billion of its stock.
Some companies borrow money for share purchases. Over the three months through June 19, companies in the S&P 500 listed buybacks or dividends among the uses for $58 billion they raised in bond sales, according to data compiled by Bloomberg and Sundial Capital Research.
Since 2009 companies have spent $2.4 trillion on buybacks, drawing criticism from politicians who say the companies should use the money to hire workers, pay them more, build plants, and fund research. In her economic policy speech on July 13, Hillary Clinton vowed to "propose reforms to help CEOs and shareholders alike focus on the next decade rather than just the next day, making sure stock buybacks aren't being used only for an immediate boost in share prices." Senators Tammy Baldwin (D-Wis.) and Elizabeth Warren (D-Mass.) have asked the Securities and Exchange Commission to look into the practice, with Warren saying that buybacks "create a sugar high for the corporations."
Wall Street has its own doubts about the tactic. Investing in people, facilities, and research arguably could have a much bigger long-term impact on a company's bottom line—not to mention the entire economy—than a company taking advantage of low interest rates to borrow money to buy its own stock. That's the reasoning behind a letter BlackRock Chief Executive Officer Laurence Fink sent in April to the CEOs of S&P 500 companies, arguing that their "duty of care and loyalty" should be to long-term owners instead of activists agitating for returning more cash to shareholders.
One reason buybacks are common is that U.S. companies have earned so much money in the past few years. Over the previous 12 months they've generated $1.1 trillion in profits—a sum that "cannot possibly be reinvested back" as capital spending or research and development, says Dubravko Lakos-Bujas, an equity strategist at JPMorgan Chase. "Cash flow generation for U.S. companies has been very robust, balance sheets have remained pretty healthy, and interest rates are still low," he says. "With growth fairly anemic, it's extra reason for buybacks." Or as BTIG's Greenhaus puts it, "Companies have to do something with their cash."
When dividends are included, companies are returning about as much cash to shareholders as they have in the past. Added together and expressed as a proportion of stock prices, repurchases and other payouts total 4.3 percent—about the historical average, according to JPMorgan data.
Investors have shown that they approve of the tactic. Shares of the 100 companies that use the biggest portion of their cash on repurchases in 2014 have beaten those that spent more on plants and equipment, according to an April study by Barclays. Says Marshall Front, chief investment officer at Front Barnett Associates: "Corporations wouldn't buy back as much of their stock if they could make a significant increase in earnings over the years through investment."—With Kevin Kelly and Yan Liberman
The bottom line: Companies spent more than $550 billion on their own stock in 2014, boosting earnings by 2.3 percentage points.
Before it's here, it's on the Bloomberg Terminal.
LEARN MORE