Bush Leads Pack in Winning Over GOP Power Brokers
Romney bundlers back Bush over Rubio by a better-than 2-to-1 margin.
By and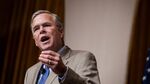 The wealthy Republicans who rounded up donations on behalf of Mitt Romney's 2012 bid for the White House are making their preference clear: Jeb Bush for president.
Since April, at least 146 Romney bundlers have given to the former Florida governor -- more than twice the number that helped the next most popular candidate, Senator Marco Rubio. That's according to a Bloomberg review of bundlers' donations, a potential signal of who they'll back in the coming months.

Bush and Rubio are among those vying most keenly for support from the party's traditional power brokers. Others, such as libertarian-inspired Rand Paul and Tea Party favorite Ted Cruz, are betting on substantial support outside of the party establishment. Twelve Romney bundlers helped Cruz. Just one gave money to Paul.
Even the Democratic front-runner, Hillary Clinton, garnered donations from more Romney bundlers than some Republicans. One was John Catsimatidis, the billionaire New York grocer who has also given to the Cruz and Lindsey Graham campaigns. He still calls Bush his first choice, saying he goes "all the way back with the Bushes."
"On election night, if it's Jeb Bush and Hillary Clinton, I'd go to sleep early, because regardless of who's president, America is going to be better off," Catsimatidis said today.
The analysis is based on a list of Romney bundlers assembled by USA Today in 2012, a tally drawn partly from earlier sleuthwork by the Sunlight Foundation. (Romney never disclosed an official list.) Bloomberg compared those names to contributors to presidential campaigns in the second quarter, lists that most of the candidates were required to disclose Wednesday and that together comprised more than 100,000 contributions. Rubio got support from 67 bundlers compared with 14 for Graham and 13 for Carly Fiorina.
The majority of the fundraisers -- at least 1,002 - didn't make any donations between April and June, so there may be plenty of room for other candidates to contest Bush's dominance. And now more than ever, candidates have other routes to raising big money. All but two of the 17 Republican candidates are getting support from dedicated super PACs, which can raise unlimited funds and often get individual checks of $1 million or more. By comparison, bundlers typically hit up friends and business associates for dozens of checks worth $2,700, the most that an individual may contribute directly to an election campaign.
Bush reported yesterday that he raised $11.4 million in the second quarter, mostly from these limited contributions. Rubio reported gathering $8.9 million, although his campaign says he also transferred $3.2 million from a Senate campaign account. Both are being supported by outside groups that have raised tens of millions more.
Many of the bundlers contributed in the quarter are hedging their bets, as Catsimatidis did, by supporting two or more candidates. Even Wayne Berman, an executive at private-equity firm Blackstone Group who is a key Rubio fundraiser, also donated to the Graham campaign.
Missing from the picture so far are candidates Chris Christie and Scott Walker, who kicked off their official campaigns too late to for reporting donations in June.