Yellen Resists Demands to Give Congress Fed Leak Documents Now
Craig Torres and Matthew Boesler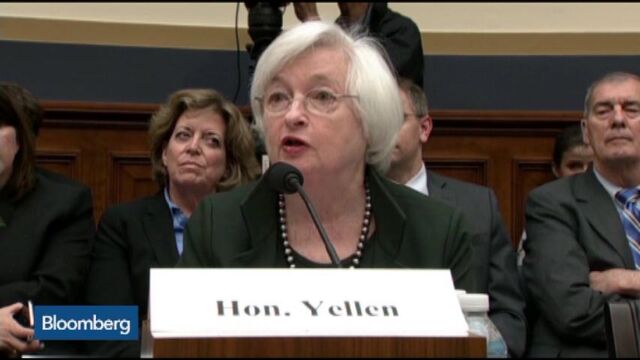 Federal Reserve Chair Janet Yellen pushed back against congressional demands that she provide documents on an investigation into a 2012 leak of confidential monetary policy deliberations.
Testifying before the House Financial Services Committee Wednesday, Yellen told Representative Sean Duffy, a Wisconsin Republican, that she wouldn't provide documents immediately because doing so could compromise a criminal investigation.
"We have indicated that we fully intend to cooperate with you to provide the documents you requested," she said in response to questioning by Duffy, head of the panel's oversight and investigations subcommittee. "We are not going to provide them now because this matter is the subject of an open criminal investigation."
Duffy said he didn't buy that argument.
"Madame chair, it appears you are the one who is jeopardizing, or the Fed is the one who is jeopardizing, this investigation," he said. "If anyone is trying to sweep this under the rug, it's the Fed."
Tensions between the Federal Reserve and the House have simmered for months over the 2012 leak, leading to a May 21 subpoena to make the central bank share more information.
Duffy and Financial Services Committee Chairman Jeb Hensarling, a Texas Republican, have challenged Yellen and the Fed's inspector general, Mark Bialek, for not fully complying with their request.
"Both the Fed and the OIG have failed to state any cognizable legal basis upon which to withhold the requested records from Congress," the two representatives wrote in a June 17 letter to Yellen and Bialek.
No Authority
Duffy underscored that argument in Wednesday's exchange, telling Yellen: "You have cited no legal authority to deny that request."
"I hope you will reconsider your denial," he said.
Yellen told the committee in a June 22 letter that the central bank has "consistently recognized" congressional oversight, while noting that the leak was subject of an "open criminal investigation" by the Fed's IG and the Department of Justice.
She said the Fed IG "has indicated" that sharing records could jeopardize the investigation. She told Hensarling in a letter on June 4 that she would strive to fulfill the records request once the IG and Justice Department probes had concluded.
Medley Report
Bloomberg News previously reported that potentially market-moving inside details of the FOMC's September 2012 meeting were published by Medley Global Advisors in a report to clients on Oct. 3 that year, one day before the Fed published minutes of the gathering.
Medley Global Advisors is a policy intelligence firm owned by FT Group, a division of Pearson PLC.
Then-Fed Chairman Ben S. Bernanke in 2012 asked Fed General Counsel Scott Alvarez and William English, who was FOMC secretary at the time, to investigate the breach of internal communication guidelines.
Medley's Oct. 3, 2012, "special report" telegraphed that Fed officials were laying the groundwork to boost their purchases of U.S. Treasuries, and preparing forward guidance on the policy rate linked to inflation and employment conditions.
The FOMC announced both those steps in December that year.
The Fed's inspector general informed some Fed board officials in March 2013 that he was conducting his own investigation; that ended without published results. The IG's inquiry was re-opened this year after Bloomberg News reported details of the leak and the separate internal probe ordered by Bernanke.
As many as five lawmakers, including Democrats Senator Elizabeth Warren of Massachusetts and Representative Elijah Cummings of Maryland, have asked for more details about how confidential FOMC information was spilled.