Spieth at 21 Seeks to Match Hogan With Third Major to Start Year
Michael Buteau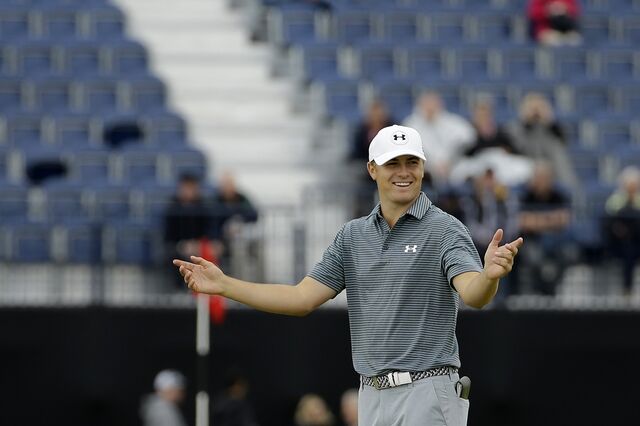 Jordan Spieth says he won't even dream about winning his third major in a row.
"I don't think about it," the 21-year-old Texan said moments after winning the John Deere Classic and boarding a plane bound for this week's British Open in Scotland.
After becoming the youngest golfer in history last month to win the Masters Tournament and U.S. Open in the same season, he enters the British Open with a chance to set up a bid to become the first golfer to win the sport's Grand Slam at next month's PGA Championship.
"He is on the cusp of doing something that will shake the ground of the game," said former PGA Tour player Brandel Chamblee, now a Golf Channel analyst. "And to see somebody do it with such comportment is even more impressive."
Spieth has amassed four wins and 11 top-10 finishes in 17 events this season and is the British Open betting favorite at 5-1, according to the Westgate Las Vegas SuperBook. Fellow American Dustin Johnson is second at 12-1. The two will play with Japan's Hideki Matsuyama in the first two rounds at St. Andrews, the same course where Tiger Woods won two of his 14 major titles (2000, 2005).
Defending champion Rory McIlroy said he won't play at St. Andrews after rupturing an ankle ligament while playing soccer with friends.
Winning the British Open after the Masters and U.S. Open would put Spieth alongside Ben Hogan -- who won the three tournaments in 1953 -- as the only golfers to accomplish it. Hogan was 41 when he did it, 20 years older than Spieth is now.
"He is who we think he is," said Paul Azinger, the 2008 U.S. Ryder Cup captain. "He's just a good guy who's got his act together. He works for everything he's got, and he just seems grateful for it."
Three Majors
Four others -- Craig Wood, Arnold Palmer, Jack Nicklaus and Woods -- have each won the Masters and U.S. Open in the same season. None were able to add the British title. Wood, at age 40 in 1941, never got a chance due to World War II. A 30-year-old Palmer (1960) and 32-year-old Nicklaus (1972), each lost the British Open by a stroke.
Tiger Woods in 2000 won the U.S. Open, the British Open, the PGA Championship and the 2001 Masters. Bobby Jones in 1930 won what many consider the sport's only grand slam: the U.S. Amateur Championship, the U.S. Open, the British Amateur and British Open.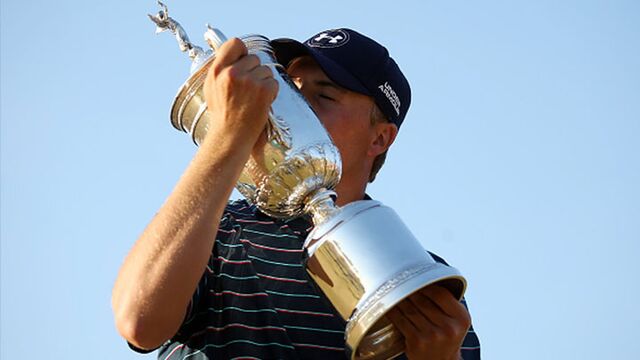 Tiger Hysteria
The attention around soft-spoken Texan Spieth comes nowhere near matching the pop-star hysteria that surrounded Woods from 1997-2008 as he amassed the second-most major titles in the sport. That doesn't mean Spieth won't get noticed.
"His biggest challenge heading into the British Open may not be the competition on the course, but rather the need to manage the expectations of a media so intent on trying to coronate the sport's next superstar," said David Carter, executive director of the Sports Business Institute at the University of Southern California's Marshall Business Institute. "As this plays out, the pressure will build."
As if his win at last month's U.S. Open didn't raise the expectations high enough, Spieth won the John Deere Classic in a playoff on Sunday as a warmup for the British Open. It was his only start since his U.S. Open win on June 21.
Muirfield Storm
In 2002, Woods had a chance to match Hogan's feat. He was two shots off the lead heading into the third round of the British Open at Muirfield, when he was blasted with furious winds, rain and cold temperatures that Saturday and walked off the course with an 81 -- his highest score as a professional at the time -- and hasn't threatened the single season Grand Slam since.
Like the others before him, Spieth comes to golf's oldest tournament with the same opportunity for golf history. A win would not only put him next to Hogan on a rare list, it would then give him a chance to complete golf's modern Slam next month at the PGA Championship in Wisconsin, which would create his own one-man list.
"That would be pretty cool," Spieth said. "There's an opportunity to actually be in a different category in a single season. If I can somehow stay with those names for years to come versus just this season, that's when it's really, really going to set in and be extremely cool."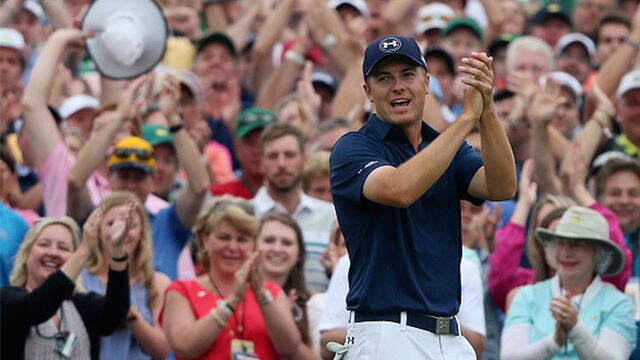 Read this next:
Before it's here, it's on the Bloomberg Terminal.
LEARN MORE