Romario Joined by Impeached Ex-President in Brazil Soccer Probe
Tariq Panja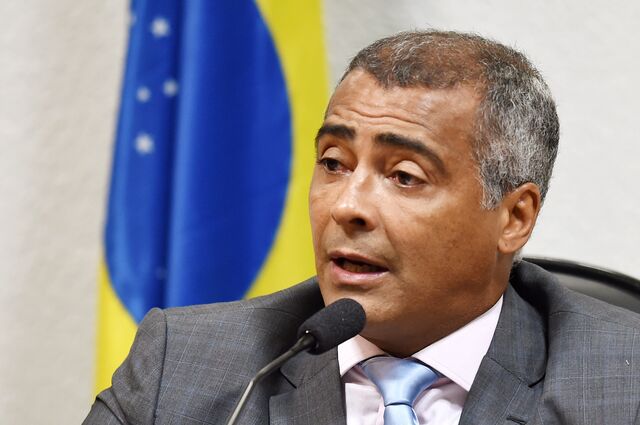 Brazil's soccer federation will be investigated by parliament after former and current executives were implicated in the U.S. Department of Justice's sprawling international corruption investigation.
The probe, known locally as a Congressional committee of inquiry or CPI, will be led by former World Cup winning striker-turned politician Romario and includes Fernando Collor, the only Brazilian president to have faced impeachment.
"It seems to me that it's going to be big," Eduardo Carlezzo, a lawyer specializing in soccer, said by phone from Sao Paulo. "We need to clean up. We see that the accounts both of clubs and federations are a little bit dark somehow, and now we need transparency."
A U.S. investigation has led to charges against 14 FIFA soccer officials and sports marketing executives accused of engaging in "rampant" corruption dating back more than two decades.
Though the Brazilian Senate's inquiry cannot result in direct charges, the report will be sent to Brazil's prosecutor general. The CPI is the second effort by parliament members to look at how Brazil's soccer federation operates amid decades of allegations of corruption and wrongdoing there.
Jose Maria Marin, who led the federation during last year's World Cup, was among seven soccer officials arrested in Zurich after the U.S. accused him of accepting bribes in return for regional and local soccer rights. His predecessor Ricardo Teixeira quit in 2012 shortly before a FIFA report said he'd accepted kickbacks from the soccer body's former marketing partner.
Soccer Crises
Brazilian soccer is battling through crises on and off the field. The national team, a record five-time World Cup winner, was humiliated when it hosted the tournament last year, losing 7-1 to eventual winner Germany in the semifinals. Its attempts to bounce back at the Copa America ended in elimination by Paraguay.
Congress last week approved a bill that demands better corporate governance at the country's professional clubs in return for a 20-year deadline to repay about 4 billion reais ($1.28 billion) in unpaid taxes.
"We all know we live in a very bad time, very negative in our football, and through a serious and dedicated CPI, as I'm sure it will be this here, you will be able to revamp our football, to modernize the Brazilian football, and especially of moralizing what is happening in the sport in general," Romario said after the inquiry was approved.
U.S. Charges
The U.S. charges against Marin are related to the sale of marketing and television rights to the Brazilian Cup and two South American competitions, the Copa Libertadores and the Copa America. The case also mentions two unidentified co-conspirators whose details track those of Teixeira and current soccer head Marco Polo del Nero. They deny wrongdoing.
"What they will try to find with the CPI is bribes," said Carlezzo. The group will has the power to demand soccer officials testify and get access to documents in the same manner a police inquiry would, he added.
Romario, who was top scorer on the 1994 World Cup winning team, has been a constant critic of Brazil's soccer leaders in recent years, and was the biggest opponent of the $15 billion the country spent on hosting the World Cup. Other members of his investigatory panel face their own legal troubles.
Brazil's supreme court ordered three high-performance cars including a Lamborghini to be seized from former president Collor's home yesterday as part of Brazil's biggest corruption investigation known as operation Carwash. Senator Ciro Nogueira, another panel member, also had property seized. They deny wrongdoing.
"It doesn't make sense when we all see a lot of politicians under huge investigation being part of a commission whose goals are cleaning football," Carlezzo said.
Before it's here, it's on the Bloomberg Terminal.
LEARN MORE