Rise of the Chinese Consumer Sees New Drivers Take Over in 2015
Bloomberg News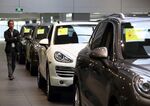 China's economic landscape shifted further in the first half as consumption and services became increasingly important while investment and exports, the traditional growth engines, waned.
A measure of consumption, which in China includes both household and government spending, contributed 60 percent to gross domestic product growth in the first half, said Sheng Laiyun, spokesman of the National Bureau of Statistics. That almost doubled the contribution from investment. Services expanded 8.4 percent in the first half, the NBS said, while secondary industry including industrial production and mining grew 6.1 percent and agriculture 3.5 percent.
"The driver for China economic growth in the future is consumption, not investment," said Tao Dong, chief regional economist for Asia excluding Japan at Credit Suisse Group AG in Hong Kong. "We can see the trend today, and we will see the trend more clearly in coming years."
Tao said discretionary consumption will be key. "You need one oven to cook, and that's a necessity, and China has reached that stage. You may want massage services to relax, that's discretionary and that will be the future," he said.
Cinema revenues underscore the trend. When growth was hit by the global financial crisis in 2008, the whole-year box office revenue was just 4 billion yuan ($644 million); in the first half of 2015, box office revenue was 20 billion yuan.
Services now account for 49.5 percent of GDP -- still a long way from developed nations such as the U.S., but also a long way from the manufacturing-led days of China's recent past.
Better Structure
"The demand structure is changing in line with our policy intentions, and the structure is getting better," said Sheng, the NBS spokesperson.
Accelerating that trend -- and eroding competitiveness -- is the fact that incomes are rising faster than the nation's economic growth rate, which held steady at 7 percent last quarter. Monthly income of migrant workers rose 9.8 percent in the first half from a year earlier to 3,002 yuan, while average incomes rose 9 percent for urban and rural residents.
Retail sales were strong in June, helped by a 39 percent surge in online sales in the first half. By contrast and underscoring the downturn in China's "old" growth drivers, crude-steel production fell 1.3 percent in the same period.