Photographer: Chris Ratcliffe/Bloomberg
Pollution Killing 9,500 Londoners Revives Mayor's Heathrow Plea
Alex Morales
London's pollution killed 9,500 people in 2010, the first study to quantify the full danger showed, prompting Mayor Boris Johnson to renew his calls for abandoning the expansion of Heathrow Airport on air quality grounds.
About 5,900 deaths were the result of nitrogen dioxide, a pollutant produced by diesel engines, according to the report released Wednesday by King's College London for the mayor's office. The remainder were due to particulate pollution known as PM2.5s.
"I need the help and strong support of the government and the EU to effectively win London's pollution battle and target the enormous amount of toxic air transported into our great capital," Johnson said. "My greatest priority remains to protect the well-being and environment of Londoners."
The study is the first to quantify deaths from NO2, a gas whose emissions authorities in London have struggled to contain as the use of diesel engines spreads. The capital has been in breach of European Union limits on NO2 since 2010, and the government projects it won't comply until at least 2030, opening the country up to legal action and fines from EU authorities.
"Evidence on the health effects of nitrogen dioxide has strengthened in recent years, including evidence linking long-term exposure to nitrogen dioxide with mortality," said Heather Walton, an environmental researcher at King's College. "It is now thought that there is an additional effect beyond that previously quantified for the effects of long-term exposure to PM2.5."
Heathrow Decision
Roads around Heathrow, the most busy U.K. airport, are among those in breach of EU rules. Johnson's office said that the latest study means "the government must now rule out expansion of Heathrow."
Heathrow Chief Executive Officer John Holland-Kaye said on July 1 that the hub's plans will meet air-quality rules. The government's Airports Commission two weeks ago said the hub presents the "strongest case" for expansion of airport capacity in southeast England.
The Airports Commission left a final decision in the hands of Johnson and Prime Minister David Cameron's Conservative government, which is split on the issue. Cameron has said he'll make a decision by the end of the year.
Johnson has brought in measures to clean up the exhausts of taxis and the capital's bus fleet. He's also planning an "Ultra-Low Emission Zone" for central London, which will encourage vehicles to be low- or zero-emissions from 2020.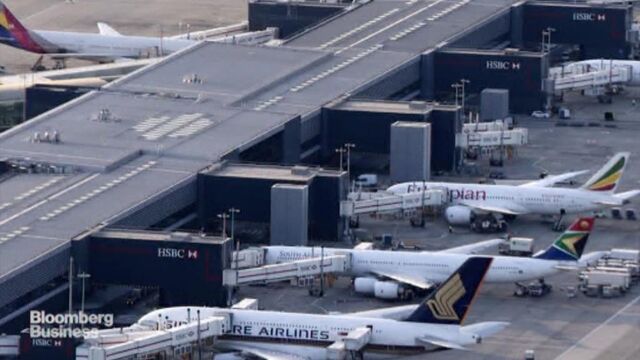 Read this next: