Ireland's INBS Admits Lending Breaches; $5.5 Million Fine Waived
Joe Brennan and Donal Griffin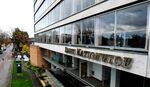 Ireland's central bank said Irish Nationwide Building Society admitted to "multiple breaches of financial-services law and regulation" during the boom as part of a regulatory probe into the defunct lender.
The regulator waived a 5 million-euro ($5.5 million) fine imposed on the lender, it said in a statement on Wednesday, as INBS has no assets after being seized by the state during the financial crisis and put into liquidation. The central bank said it is continuing to probe "certain" former managers at the lender.
INBS admitted to failings in its commercial lending process from 2004 to 2008, from operational lending, to credit review, its credit, provisions and audit committees all the way to the board, the central bank said. The company was nationalized in 2010 amid soaring losses on bad loans, following its expansion from mortgages to commercial real estate lending.
The state, which provided INBS with 5.4 billion euros in bailout funds, later merged it with Anglo Irish Banking Corp. and put the combined firm into liquidation in 2013.
"INBS's admitted failings amount to a consistent and, at times, wholesale disregard for its own policies and procedures," said Derville Rowland, the regulator's director of enforcement. "An inquiry is due to be held by the central bank to establish whether certain persons who were concerned in the management of INBS participated in the commission of the breaches."
INBS's commercial loan book rose 128 percent during the period to about 8.2 billion euros, the central bank said. It posted more than 6 billion euros of losses from 2008 to 2010.
The regulator said on July 10 it will probe whether "certain persons" took part in "contraventions" at INBS.
Michael Fingleton, who ran the lender from 1971 to 2009, didn't respond to a message left on his mobile phone.