Hillary Clinton Assures Skeptics Iran Deal Can Make World Safer
The former secretary of state says military action against Tehran would be an option if the terms of the agreement were broken.
By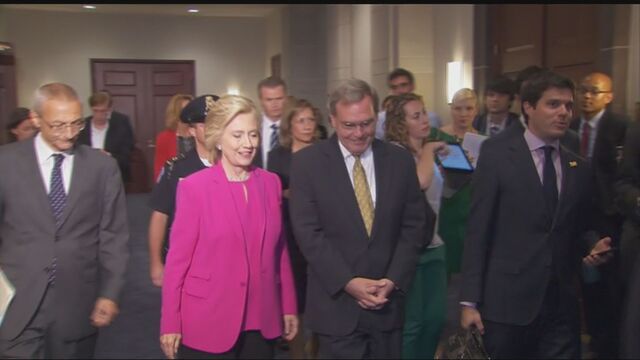 Hillary Clinton offered her support late Tuesday for the Iran nuclear agreement announced earlier in the day and said that, if elected president, she would not take any options off the table, including a military response if Tehran fails to live up to its side of the bargain.
"I am still studying the details, but based on the briefings I received and a review of the documents, I support the agreement because it can help us prevent Iran from getting a nuclear weapon," the former Obama secretary of state and Democratic presidential front-runner said in a written statement. "With vigorous enforcement, unyielding verification, and swift consequences for any violations, this agreement can make the United States, Israel, and our Arab partners safer."
If she were to become president, Clinton would "proceed with wisdom and strength in enforcing this deal to the fullest and in meeting the broader Iranian challenge." She would "use every tool in our arsenal to compel rigorous Iranian compliance," she said, and if there were signs that Iran was reneging, her response would be "immediate and decisive." It would begin with the reintroduction of sanctions but would take "no options off the table, including, if necessary, our military options."
Clinton's endorsement of the deal, paired with her description of how she'd go about compelling Iran to abide by it or respond to violations, is a careful and nuanced position that at once aligns her squarely with her former boss, President Barack Obama, and sets her apart from him in how she'd choose to enforce it from the White House.
Her backing of the deal stands in stark contrast with Republican presidential hopefuls' universal condemnation of it. Florida Senator Marco Rubio said he hopes his colleagues will vote against the deal, and former Texas Governor Rick Perry said he'd go so far as to reach out to Senate Democrats to ask them to block the agreement. Rubio and Wisconsin Governor Scott Walker both said Tuesday that it would be the responsibility of the next president to unwind the Obama administration's Iran policies and to take on a more belligerent approach.
South Carolina Senator Lindsey Graham, meanwhile, said that if Clinton were to back the deal, she'd show herself to be "dangerously naive."
Other candidates for the Democratic nomination are more in line with Clinton, with Vermont Senator Bernie Sanders calling the deal "a victory for diplomacy" and former Maryland Governor Martin O'Malley describing it as "a step in the right direction."
Clinton was informed of the deal by Obama and briefed by senior administration officials because of her role in getting the process started while at the State Department, campaign and White House officials said. 
Clinton's written statement came several hours after she gave a more tepid response to reporters on Capitol Hill, calling the deal an "important step." But after being briefed by Secretary of State John Kerry, Energy Secretary Ernest Moniz and National Security Adviser Susan Rice, and discussing the deal with her advisers, Clinton was ready to weigh in.
Clinton also offered assurances to Israel, whose top officials including Prime Minister Benjamin Netanyahu, oppose the deal and see it as threatening their existence. "Going forward, we have to be clear-eyed when it comes to the broader threat Iran represents," she said. "Even with a nuclear agreement, Iran poses a real challenge to the United States and our partners and a grave threat to our ally Israel." Sanctions to respond to terrorism and other non-nuclear threats from Iran must still be part of the equation.
"Israel has to be confident that the United States will always ensure its Qualitative Military Edge in the region and its capacity to defend itself by itself," she said. "As president, I would invite the senior Israeli leadership to Washington for early talks on further strengthening our alliance."
She also acknowledged opponents of the deal whose "concerns have to be taken seriously" and "are right to call for extreme vigilance. I am as familiar with Iranian behavior and the need to confront it as anyone."
Still, she added, she supports the deal because she believes "it is the most effective path of all the alternatives available to the U.S. and our partners to prevent Iran from acquiring a nuclear weapon."