Greek Lawmakers Weigh Bailout Country's Leaders Despise
Nikos Chrysoloras, Eleni Chrepa and Matthew Campbell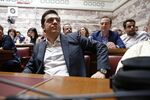 Greek lawmakers debated accepting further austerity in exchange for a new bailout of as much as 86 billion euros ($94 billion), a deal leaders denounced even as they urged colleagues to support it.
Speeches in parliament continued past 1:30 a.m. Thursday in Athens on a bill that will impose spending cuts and tax rises demanded by creditors. Prime Minister Alexis Tsipras waited until after midnight to speak, leaving his finance minister, other members of his Coalition of the Radical Left, or Syriza, and the opposition to make the case for passing the bailout bill.
Earlier on Wednesday evening, police fired tear gas to disperse protesters outside parliament, hinting at the challenges Tsipras faces convincing a country whose economy has shrunk by a quarter in the last five years to accept new spending reductions. In a July 5 referendum, 61 percent of Greeks voted "no" to a package of cuts less onerous than the one Tsipras accepted on Monday after capitulating to creditors' demands.
"I had a choice of a deal I did not agree with, or a disorderly default, or Schaeuble's choice of a euro exit," Tsipras said in his speech. "I'm the last person to beautify an agreement with which I disagree in many of its points."
Lawmaker Defections
U.S. stocks ended their longest rally since January as the debate was held, with the Standard & Poor's 500 Index slipping 0.1 percent. The euro was little changed.
Tsipras is likely to lose the support of 30 to 40 Syriza lawmakers in the vote, and to be forced to rely on opposition lawmakers to pass the bill, Eurasia Group analyst Mujtaba Rahman said in a note to clients.
As a result, "Tsipras will reshuffle his cabinet and may call a vote of confidence," allowing him to rule with a minority of the legislature at least for a few weeks, Rahman said. After that, a "national unity" government comprising the major Greek parties could be formed.
Finance Minister Euclid Tsakalotos told lawmakers that "on Monday morning, at 9:30 a.m., it was the most difficult moment of my life. I don't know if we did the right thing. But I know we did something to which there was no alternative."
ECB Payment
Parliamentary approval is a key milestone in the plan to unlock fresh aid for Greece. Banks have been closed for more than two weeks to stem withdrawals and without an injection of funds the government will miss a July 20 payment of 3.5 billion euros to the European Central Bank.
The Frankfurt-based ECB plans to make a decision on extending emergency liquidity to Greek banks on Thursday, after the parliamentary vote, which may allow Greek lenders to gradually re-open. The bailout deal must also still be approved by six other euro-area national parliaments, including the lower house in Germany, which plans to reconvene from summer recess on Friday.
The brief clashes outside parliament as the debate began were reminiscent of the turmoil that rocked Greece at the height of the crisis in 2011, when hooded protestors in gas masks fought running battles with police. Police said about 13,000 people gathered to protest in central Athens tonight, though by about 9:45 p.m. many were dispersed by riot officers.
Hotels and shops around the square pulled down shutters and deployed security guards as night fell. A few blocks away, business continued as usual in the tourist-heavy Plaka district.
Molotov Cocktails
Television images showed protesters throwing Molotov cocktails shortly before the tear gas was fired.
Greek politics have gone through the looking glass since Tsipras and Syriza came to power in January promising to end "kowtowing" to German-led creditors. As the sound of percussion grenades reverberated across Syntagma Square, lawmakers who had campaigned against austerity just six months before are now preparing to vote for just the opposite.
Opposition leader Evangelos Meimerakis, who heads the center-right New Democracy party, suggested Tsipras should never have believed he could change European leaders' demands. "Now you've learned," he said in the legislature, addressing the premier. "But your tuition fees were really expensive."