Drugged Sex Is Rape, Obama Says Regarding Cosby Allegations
Angela Greiling Keane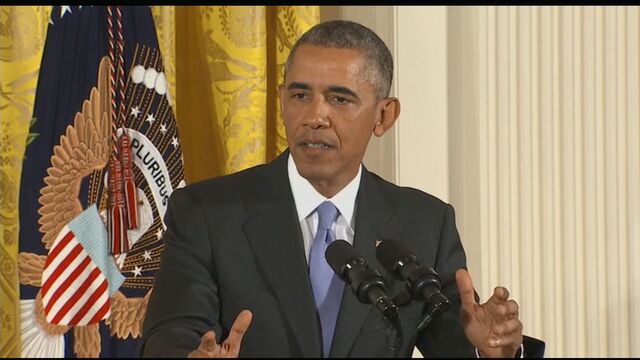 President Barack Obama said he's not able to revoke a White House honor bestowed on comedian Bill Cosby, who has been accused of drugging and raping about two dozen women.
"There is no precedent for revoking a medal," Obama said Wednesday at a White House news conference. "We don't have that mechanism."
Responding to a question about whether he would rescind the Presidential Medal of Freedom awarded to Cosby in 2002 by President George W. Bush, Obama referenced allegations lodged against the comedian.
"If you give a woman, or a man for that matter, without his or her knowledge a drug and then have sex with that person without consent, that's rape," he said. "This country, any civilized country, should have no tolerance for rape."

More than 25 women have accused Cosby, 78, of drugging and sexually assaulting them dating back to 1965. Cosby has denied the allegations through his lawyer and hasn't been criminally charged.
More than 11,000 people have signed a petition asking for Cosby's Medal of Freedom, the highest civilian honor in the U.S., to be revoked.
"The president said there is no precedent for revoking the Medal of Freedom, but there's also no precedent for the nation giving its highest honor to a man accused by dozens of women and admitting to obtaining drugs for people he wanted to have sex with," Angela Rose, executive director of the group behind the petition, Promoting Awareness, Victim Empowerment, said in a statement.
Democratic Senators Kirsten Gillibrand of New York and Claire McCaskill of Missouri have said Cosby's medal should be revoked.
'Zero Tolerance'
Cosby has been dropped by the television network NBC and by companies with which he had been associated. Statements Cosby made in a 2005 civil deposition were published last week by the Associated Press. He said he obtained Quaaludes to give to women with whom he wanted to have sex, according to the AP report.
David Brokaw, Cosby's publicist, didn't respond to an e-mail seeking comment on Obama's remarks.
Obama, the father of two teenage girls, prefaced his remarks on Cosby by saying he'd abide by his longstanding policy of not commenting on unresolved legal matters.
The president chose to comment on the allegations because "he has zero tolerance for rape," Valerie Jarrett, a senior White House adviser, said in an e-mail to Bloomberg after the news conference.