Billionaire Paul Singer: China Crash Is 'Way Bigger Than Subprime'
Beth Jinks and Simone Foxman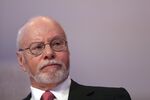 Hedge fund manager Paul Singer said that China's debt-fueled stock market crash may have larger implications than the U.S. subprime mortgage crisis, echoing warnings from fellow billionaire money managers Bill Ackman and Jeffrey Gundlach.
"This is way bigger than subprime," Singer, founder of hedge fund Elliott Management, said at the CNBC Institutional Investor Delivering Alpha Conference in New York in response to a question about China's crash potentially affecting other markets. Singer said it may not be big enough to cause a global financial market conflagration.
China's stock market has dropped from a June 12 peak wiping out almost $4 trillion in value in less than a month after investors who borrowed to buy shares had to unwind trades. Markets tumbled even as President Xi Jinping's government ramped up efforts to stem the rout, including preventing share sales of companies.
The threat to markets from the country is a bigger concern to Ackman, who runs Pershing Square Capital Management, than Greece.
"China is a bigger global threat by far," Ackman said Wednesday at the conference. "The Chinese stock market is a fairly remarkable phenomenon and I think kind of a frightening one."
Ackman said he's worried about China's lack of transparency and questioned the reliability of its economic statistics, the same day that China said gross domestic product rose 7 percent in the last quarter.
"If you look at the Chinese financial system, you look at shadow banking, you look at the amount of leverage, you look at how desperately they worked to keep the stock market up. It looks worse to me than 2007 in the U.S," Ackman said.
Gundlach Comparison
DoubleLine Capital co-founder Gundlach compared the stock market there with the Nasdaq in 1999, 2000, when technology stocks collapsed.
"China is really kind of concerning," Gundlach said in an interview with CNBC at the conference. "China is far too volatile and murky to invest in."
Mary Erdoes, chief executive officer of JPMorgan Asset Management, said at the event that China's equities markets don't reflect the economy.
"It's been 25 years of 7 percent growth," said Erdoes. "No other country has displayed that. Not even the U.S. There's a lot going on in the economy and it's completely disassociated with the stock market."
For more, read this QuickTake: China's Economic Data