What Congress Won't Like about the Iran Nuclear Deal
Four key provisions and the objections lawmakers are likely to raise.
By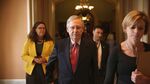 Critics in Congress condemned the Obama administration's nuclear accord with Iran even before the paperwork was sent to Capitol Hill.
Here are four key elements of the accord, along with questions lawmakers are likely to raise in their 60-day review of it:
1. Snap back?
Provision: Sanctions against Iran won't start to be waived until "implementation day," when the International Atomic Energy Agency confirms that the Islamic Republic has met commitments to curb its nuclear program. If Iran is later found to violate the accord by stonewalling inspectors, sanctions could "snap back" into place, according to U.S. officials.
Objection: Iran has stonewalled the international inspectors in the past, and sanctions will be difficult to reimpose once international oil and other trade with Iran is re-established.
2. What happens later? 
Provision: The administration says the accord places permanent constraints on Iran's nuclear program, including giving international inspectors unprecedented access to uranium mills for 25 years and the use of modern electronic seals on idled equipment.
Objection: The primary restrictions on Iran's uranium enrichment capabilities begin to be phased out after eight years, when limits on research and development would be eased, and end after 15 years.
3. Getting on base?
Provision: The international inspectors have the right to seek access to Iran's military bases if they suspect covert nuclear work is being conducted there. Again, sanctions could snap back if Iran refuses to cooperate.
Objection: Access isn't a sure thing because if Iran objects, the dispute would go to a mediation panel that includes the Islamic Republic and world powers.
4. Arms deals?
Provision: A United Nations embargo on conventional arms sales to and by Iran would stay in place for five years, and a bar on ballistic missile sales would continue for eight years.
Objection: Lawmakers have said Iran remains a backer of international terrorism and a nuclear deal shouldn't open the door to conventional arms dealing.