Scott Walker Seeks to Boost Foreign-Policy Stature
James Nash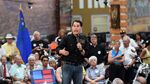 Wisconsin Governor Scott Walker sought to boost his stature on foreign policy by saying he'd confront Russian expansionism, Chinese cyberattacks and Iranian nuclear-arms development if he's elected president.
Walker, a Republican, used his first campaign appearance since announcing his White House bid to make the case for American exceptionalism, linking his own childhood under President Ronald Reagan to an argument for a more muscular approach in world affairs. Walker also faulted President Barack Obama's foreign policy as he spoke to more than 400 people at a Harley-Davidson dealership in Las Vegas on Tuesday.
Walker, the 15th Republican to announce a presidential campaign, sought to demonstrate his knowledge of foreign policy on a day dominated by news that Iran and six world powers agreed to curb the Islamic Republic's nuclear program in return for ending sanctions. Walker said he'd repeal that pact.
Walker, 47, also said he'd take a harder line with Islamic terrorists, China, Russian President Vladimir Putin and others. He said Obama and former Secretary of State Hillary Clinton, the leading Democratic candidate for president, yielded too much in the face of Russian expansionism.
"Under Obama and Clinton, Putin has found a whole lot of mush in recent years," Walker said. "The United States needs to put steel in the path of our enemies once again."
Walker also discussed domestic issues, saying he'd eliminate the federal health-care law on his first day in office. He also pledged to remove regulations that he called a "wet blanket" on business, though he did not specify which ones.
Walker's appearance before a crowd that included bearded bikers in leather jackets and men in suits and ties, was his first outside Wisconsin as a declared candidate.
Still, Walker's trip west may have been motivated more by fundraising considerations than a desire to connect with voters, said Annette Magnus, executive director of Battle Born Progress, a liberal nonprofit based near Las Vegas.
"Scott Walker is a special case for Nevada," Magnus said in a conference call with reporters. "We know he is actively courting Sheldon Adelson."
Adelson, the chairman and majority shareholder of Las Vegas Sands, the world's largest casino company, has been a consistent donor to Republican candidates. Walker told reporters he had no plans to meet with Adelson during the stop in Las Vegas.
Ron Reese, a spokesman for Adelson, didn't respond to a phone call and an e-mail seeking comment.
(Corrects day of the week in second paragraph.)