Tsipras Kicks Off Bailout Pitch with Math Already in Question
Eleni Chrepa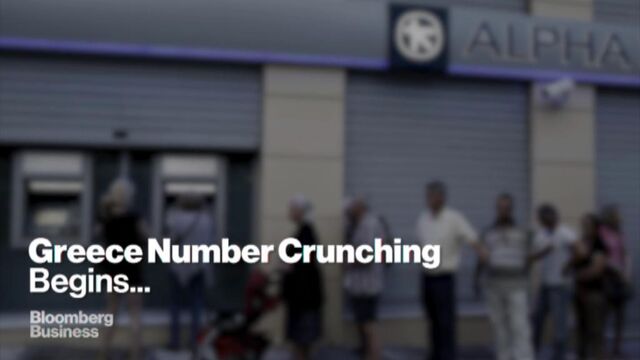 Greek Prime Minister Alexis Tsipras started his pitch for a bailout that's sparked a revolt in his own party and is struggling to get off the ground as international officials ask new questions about the country's finances.
As Tsipras went on national television on Tuesday night to argue for a deal that he only agreed to with "a knife at my neck," European officials were at a loss over how to put together a bridging loan that will keep Greece from defaulting on the European Central Bank and its own citizens next week.
One person familiar with the matter said that Greece's finances seem to get worse with every meeting and governments are now reluctant to help out with even short-term funds.
"The Greek government has not received a bridge-financing program yet because some try to block this," Tsipras said in an interview with ERT-TV before a parliamentary vote on the deal on Wednesday. "My priority is to make sure that the choice I made the other day, with a knife at my neck, is finalized."
Parliament will vote Wednesday night on the measures Greece's creditors demanded as a condition for aid as capital controls ravage an economy that has already shrunk by a quarter since 2009. Those measures have exacted a "heavy toll" and have led to a dramatic deterioration in Greece's ability to repay its debt over the past two weeks, a new analysis by the International Monetary Fund showed on Tuesday.
Germans Irritated
The euro was little changed at $1.1006 at 8:26 a.m. London time after dropping 3 percent since June 18 when Tsipras said he was ready to reject a bailout. German bunds fell, with the yield on 10-year debt rising 4 basis points to 0.872 percent. In U.S. trading, National Bank of Greece's American Depositary Receipts lost 5 percent on Tuesday.
Tsipras portrayed the package of austerity as unavoidable because the alternative was leaving the euro. In return, all Greece's mid-term financing needs will be covered and talks over debt restructuring could even start in the fall, he said.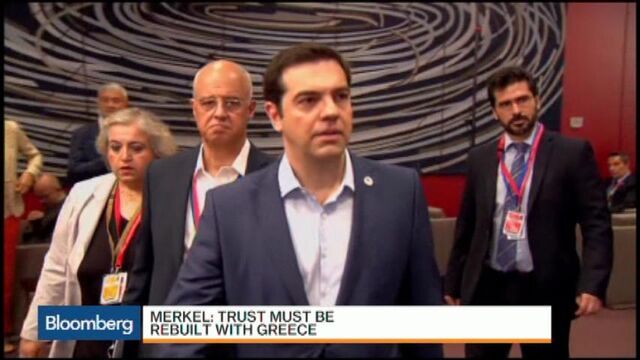 His comments touched a nerve among German lawmakers, bruised after the all-night negotiations required to agree the basis for another rescue.
"What the Greek prime minister did on Greek television yesterday irritates me," German Deputy Finance Minister Jens Spahn said on ARD television. "When someone says 'I actually don't really support what I'm doing now', then I think that's a problem -- this doesn't necessarily create trust"
Bridge Financing
Tsipras's comments set up a day of parliamentary maneuvering that threatens to rupture his coalition. Still, opposition lawmakers are likely to back the package at a plenary vote scheduled for about 10 p.m. Athens time Wednesday.
Hurdles remain, among them disagreement over how to finance Greece through the next few weeks. Next week alone, Greece needs to pay 3.5 billion euros ($3.9 billion) to the ECB and also cover pensions and state salaries.
"We are looking at all the instruments and funds that we could use and all of them seem to have disadvantages or impossibilities or legal objections," Dutch Finance Minister Jeroen Dijsselbloem, who chairs meetings of his euro-area counterparts, said in Brussels.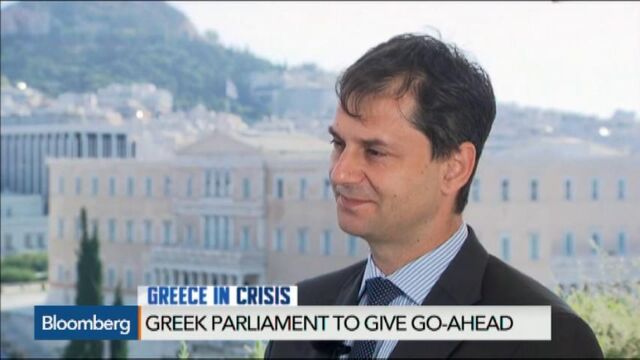 Ratification of the bailout deal must also be secured in six other parliaments, among them the German lower house, or Bundestag, which will be reconvened on Friday from its summer recess.
For now, attention will focus on Athens as Tsipras tries to steer the measures past his coalition of Syriza and the Independent Greeks. Discussion will begin at committee level at 10 a.m. and then move to a plenary debate at about 2 p.m.
Tsipras said the package won't result in cuts to wages or pensions. Sales-tax increases are "irrational" but unavoidable to satisfy creditors, while a reform of the pension system was overdue regardless of the terms laid down, he said.
Greece "does not have the required currency reserves to support a return to the drachma," he said in the interview.
Read this next:
Before it's here, it's on the Bloomberg Terminal.
LEARN MORE