China's Tsinghua Unigroup Plans $23 Billion Offer for Micron
Bloomberg News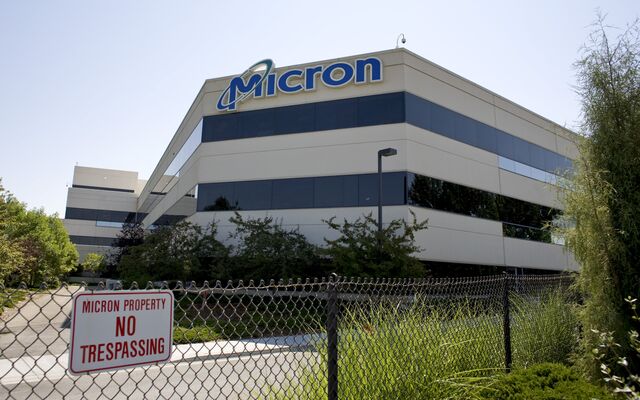 The investment arm of one of China's top universities is planning to offer $23 billion for chipmaker Micron Technology Inc., a person familiar with the matter said, in a deal that would be the largest takeover of a foreign firm by a Chinese company. Micron surged in Frankfurt trading.
Tsinghua Unigroup Ltd. will bid $21 a share, or about 19 percent more than Monday's closing price in New York, and present the offer as soon as Tuesday, said the person, who asked not to be identified because the matter is private. Micron spokesman Dan Francisco said the company hasn't received a proposal.
A purchase would give China, which accounts for more than half of the world's demand for semiconductors, the technology to build memory chips that go into computers and smartphones. The Chinese government has budgeted to spend as much as 1 trillion yuan ($161 billion) on the chip industry over the next five to 10 years, consulting firm McKinsey & Co. estimates.
"This is the right move for Tsinghua because Micron has memory chip technology, which is very hard to develop," said Gu Wenjun, chief analyst at iCwise, a Shanghai-based consulting company. "But there is only a small possibility U.S. regulators will approve this deal because it has a very strict review over offers from foreign capital, especially China."
Approval from Chinese authorities for the deal has been completed with any takeover still subject to clearance from U.S. regulators, the person familiar said.
The Wall Street Journal first reported on the offer for Micron, which rose as much as 21 percent in German trading.
Regulatory Approval
State-controlled Tsinghua Unigroup is the investment arm of Tsinghua University, which counts the country's President Xi Jinping and former President Hu Jintao among its alumni.
A deal would be the largest outbound acquisition for a China-based company, surpassing Cnooc Ltd.'s $17.4 billion bid for Nexen Energy ULC in 2012, according to data compiled by Bloomberg. It would also give China the world's fifth largest chipmaker by revenue, one able to compete with the likes of Samsung Electronics Co. and SK Hynix Inc. with manufacturing capabilities in the U.S., Japan and Singapore.
As semiconductor makers consolidate in the face of rising costs and shrinking customer pools, the proposed Micron acquisition would extend the record year the industry's having for deals, including Avago Technologies Ltd.'s agreement in May to pay about $37 billion for Broadcom Corp.
Micron on June 26 reported its first revenue decline in more than two years on weakening demand for its dynamic random access memory, or DRAM, chips used in PCs. The company is expanding its offerings to include memory for smartphones and servers and another type of chips used as storage in mobile devices and computers.
Micron shares fell 18 percent on the day after it reported the revenue decline, the sharpest single-day drop since December 2008. The stock is down 50 percent this year and Micron has a market value of $19 billion as of Monday.
— With assistance by Haixing Jin
Before it's here, it's on the Bloomberg Terminal.
LEARN MORE