U.K., South Africa Helping Citizens Held in Chinese Airport
Amogelang Mbatha, Chris Spillane and Joe Mayes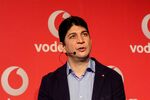 South Africa and the U.K. are providing assistance to citizens detained without charge by Chinese authorities in Inner Mongolia, including relatives of the chief executive officer of Vodafone Group Plc's Africa unit.
"Consular staff have visited the group to provide assistance and we are liaising with Chinese authorities," the U.K. Foreign Office said in an e-mailed statement on Tuesday. South Africa is trying to resolve the situation through the embassy in Beijing, Nelson Kgwete, a spokesman for the Department of International Relations and Cooperation, said by text message. The South African government doesn't know why the people are being held, Kgwete said.
Vodacom Group Ltd. CEO Shameel Joosub's brother, aunt, and uncle are among 20 South African, British and Indian citizens detained at an airport in Erdos, Inner Mongolia, about 700 kilometers (435 miles) west of Beijing, according to Johannesburg-based Vodacom, about 65 percent owned by U.K. operator Vodafone. The group were taken into captivity on July 10, South African aid organization Gift of the Givers said on its Facebook page.
South African Deputy President Cyril Ramaphosa was in Beijing on Tuesday for talks with ministers and business executives. The relationship between the two countries includes South African Airways' partnership with Air China, while China Development Corp. agreed to a $2.5 billion loan to South Africa's state-owned rail and ports operator earlier this year.
The Chinese have agreed to release 11 out of the 20 people, who will remain in detention until flights can be found for them out of China, according to Gift of the Givers.
"We are trying to confirm this information," Peng Pan, a spokeswoman for the Chinese Embassy in Pretoria, said by phone. "The embassy is not in the position to comment or clarify on the report at this time."
Vodacom has more than 61 million customers across Tanzania, Lesotho, Mozambique, the Democratic Republic of Congo and South Africa.