Scott Walker Wants Boy Scouts to Stick to Policy of Banning Homosexual Troop Leaders
The Wisconsin governor, who earned his Eagle Scout badge, said the organization's previous membership policy "protected children."
By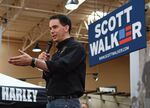 Wisconsin Governor Scott Walker is expressing opposition to a resolution unanimously approved by the executive committee of the Boy Scouts of America this week that would end a ban on gay adult leaders and let local troops set their own policies.
"I'm an Eagle Scout, my kids were in scouts, my mom was a den mother," Walker told reporters Tuesday in Las Vegas. "I think their previous policy was perfectly fine."
The two-term governor, who is trying to woo social conservatives in Iowa and other early nomination voting states, made the comment after his first public event following his presidential campaign announcement Monday in Wisconsin.
Earlier, Walked told a conservative-leaning website that the issue was one of safety. "I have had a lifelong commitment to the Scouts and support the previous membership policy because it protected children and advanced Scout values," he told IJReview.
The gay rights group the Human Rights Campaign fired off a press release Tuesday slamming Walker's statements.
"Scott Walker's suggestion that the Boy Scouts of America's current discriminatory policy somehow 'protects' children from gay adults is offensive, outrageous, and absolutely unacceptable," Chad Griffin, president of the Human Rights Campaign, said in the release. "His comments imply that we represent a threat to the safety and well-being of young people. For a sitting governor and presidential candidate to make such a disgraceful claim is unconscionable. If Scott Walker is trying to get his merit badge in being shamefully irresponsible, he just earned it with flying colors."
AshLee Strong, a Walker spokeswoman, defended the governor's position. 
"The previous policy protected Scouts from the rancorous political debate over policy issues and culture wars," Strong said in an e-mailed statement. "Scouts should not be used as a political football on issues that can often be heated and divisive."
In 2013, the national Boy Scout organization decided to allow openly gay members, although not gay adults as leaders.