Iran Deal Risks Clash With Saudis for Middle East Dominance
Donna Abu-Nasr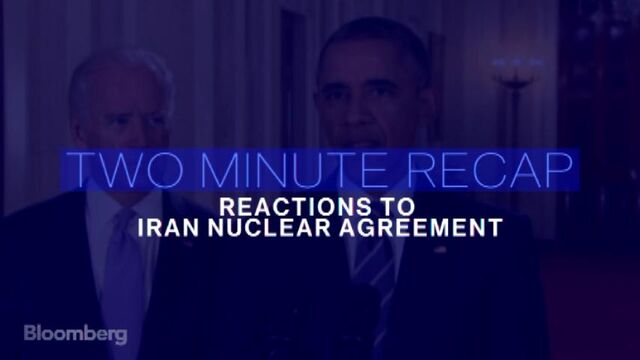 First the historic handshakes, now for the reality check in a region ripped apart by war.
With the accord over Iran's nuclear program comes the question of whether, after 12 years of debilitating sanctions, a resurgent nation can avoid escalating its confrontation with a more assertive Saudi Arabia.
How that plays out in a Middle East going through its bleakest period in modern history depends on how Shiite Iran uses its new-found clout and how its Sunni opponents react as sectarian conflicts fanned by their rivalry rage.
"The obvious logic would say, 'Yes, Iran is going to get more aggressive, it has more money to do more things,'" said Paul Salem, vice president for policy and research at the Middle East Institute in Washington. "The secondary logic suggests there's a possibility that the moderate camp in Iran can convince the supreme leader to normalize relations with its opponents and reduce tensions in the region."
Wars between forces backed by Iran and Saudi Arabia have left 250,000 people dead since 2011, most of them in Syria, and cost some economies billions of dollars. Amid the carnage and security vacuum, jihadist groups including Islamic State have strengthened and are sponsoring extremist attacks from Tunisia to Iraq.
Unfolding Change
The agreement signed Tuesday curbs the Islamic Republic's nuclear program in return for ending sanctions. Iran has until Dec. 15 to answer 12-year-old questions about its weapons capabilities. Once inspectors verify compliance, the oil-rich nation will be allowed to ramp up energy exports, re-enter the global financial system and access as much as $150 billion in frozen assets.
"Unprecedented chemistry is unfolding in the region," Nabil Boumonsef, a columnist at Lebanon's Annahar newspaper, said by phone. "It makes it impossible for anyone to predict what will happen after the Iran deal is struck."
While Iran's international rehabilitation won't happen overnight, the agreement marks a breakthrough between Tehran and Washington, whose relations have been dominated by distrust since the 1979 Islamic revolution toppled the U.S.-backed Shah Mohammad Reza Pahlavi.
Shortly after the agreement was announced in the Austrian capital, Iranian President Hassan Rouhani sought to allay fears it will lead to more instability in the region. "Region's security is our security," Rouhani said on his Twitter page. "Region's stability is our stability. Likewise, our progress is that of the region & will only benefit it."
Saudi Hopes
In Saudi Arabia, an unidentified official told state-run Saudi Press Agency that the kingdom is looking forward to building better relations with Iran "based on the principle of good neighborliness and non-interference in the affairs of others."
"Iran must use its resources to promote its internal development and improve the condition of the Iranian people, rather than use these resources to destabilize the region, an act that would be vigorously opposed by the region's countries," the official added.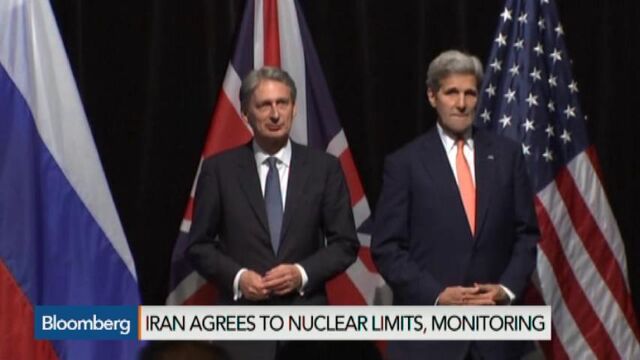 President Barack Obama spoke by phone with Saudi King Salman on Tuesday and said the U.S. "is as committed as ever to working with our Gulf partners to counter Iran's destabilizing activities in the region and promote stability," according to a White House statement.
The Saudis are leading a military coalition against Shiite rebels in Yemen and arming and financing Syrian Sunni fighters seeking to topple President Bashar al-Assad, an Iranian ally. The kingdom has also accused Iran of fomenting unrest in Bahrain and among the Saudi Shiite minority in the oil-rich east. Iran and its allies say the Saudis sponsor Sunni extremists and work against it alongside the U.S.
Common Foe
Support for Lebanese militant group Hezbollah, Assad and the other Arab groups that Iran nurtured even with its finances crippled may increase "many fold" with the nuclear accord, said Kamran Bokhari, co-author of Political Islam in the Age of Democratization.
Iran's power beyond its borders is "what its opponents in the region are worried about," said Bokhari. "Their immediate concern is not Iranian nuclear power."
In Jerusalem, Energy Minister Yuval Steinitz said the deal ignored Iran's role in the region's instability.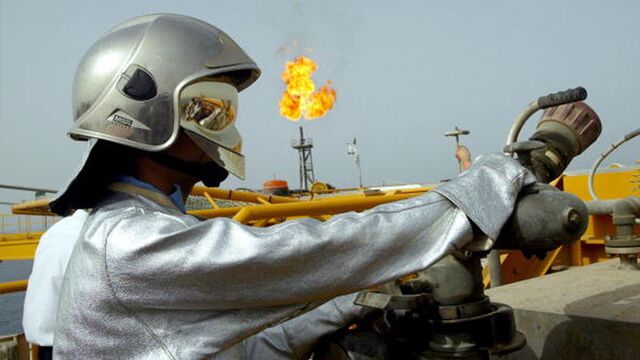 To empower Iran at this time "is a historic mistake in addition to the mistake on the nuclear front," he said at a briefing to foreign journalists called to explain Israel's broader opposition to the deal.
One common enemy for Iran and Saudi Arabia is Islamic State, which set up its extremist caliphate straddling the Syria-Iraq border a year ago.
Iranian-backed militias and military commanders have led the fight back in neighboring Iraq. In recent weeks, Islamic State has claimed attacks on Shiite mosques in Saudi Arabia which left at least two dozen people dead.
Read this next:
With Iran bound by an international agreement, it now has scope to be more involved across the region, said Paul Pillar, a former officer in the Central Intelligence Agency.
"The more that Iran has legitimate ways to compete for influence in the region, it will compete legitimately," said Pillar, now a visiting professor at Georgetown University in Washington. "The more it is ostracized and treated as a rogue state, it will behave as a rogue state."