Iran Deal Ends Possibility of Mideast Arms Race, Obama Says
Margaret Talev and Angela Greiling Keane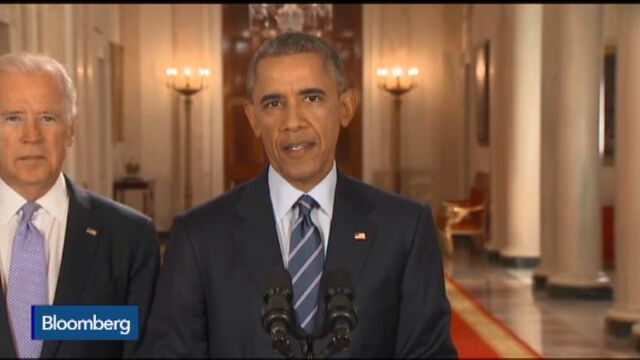 A historic deal with Iran will close off any possibility the country can develop nuclear weapons, President Barack Obama said, vowing to veto any congressional effort to block its implementation.
The accord, which will take months to put in place, will stand as one of the chief foreign policy accomplishments of Obama's two terms. He said the agreement will halt a potential arms race in the Middle East.
"This deal demonstrates that American diplomacy can bring about real and meaningful change, change that makes our country safer and more secure," Obama said Tuesday at the White House, flanked by Vice President Joe Biden.
In exchange for lifting painful economic sanctions on Iran, which holds the world's fourth-largest oil reserves and second-largest natural gas deposits, the Islamic Republic is agreeing to restrictions and inspections intended to prevent it from developing nuclear weapons.
Before taking effect, the agreement must survive a political battle in the U.S. Opponents will press Congress to block it, while Republicans want to weaken Democrat Hillary Clinton's 2016 presidential bid by linking the former secretary of state with an agreement they say offers too many concessions to Iran, endangering the U.S. and Israel.
In his remarks, Obama admonished lawmakers to "consider the alternative."
War Risk
"No deal means no lasting constraints on Iran's nuclear program," he said. "No deal means a greater chance of war in the Middle East."
He spoke in the White House's Cross Hall, a wide, red-carpeted hallway in the middle of the mansion. Obama has chosen the setting for several major public addresses, including the announcement of Osama bin Laden's death in 2011.
The sanctions relief is contingent on Iran complying with terms of the agreement, according to a copy of the accord obtained by Bloomberg News. Iran agreed to cut 98 percent of its enriched uranium stockpile and eliminate two thirds of its centrifuges.
"That stockpile will be reduced to a fraction of what would be required for a single nuclear weapon," Obama said. Provisions of the agreement allowing inspections of Iranian nuclear sites by the International Atomic Energy Agency are permanent, he said.
Opposition Mounts
Even before the deal was finalized, opposition mounted in Congress. Criticism escalated Tuesday after details were released.
"I would like a diplomatic solution to Iran's ambitions, but this is not a solution, this is pouring gas on a fire," Senator Lindsey Graham, a South Carolina Republican running for president, said in a phone interview. "The deal will not stand scrutiny. Anyone who votes for this deal is voting to give Iran money for their nuclear war machine."
A Graham spokeswoman didn't respond to an e-mail asking whether he had read the agreement before drawing his conclusions.
Israeli Prime Minister Benjamin Netanyahu, who warned against deal-making with Iran in a March address to Congress, excoriated the agreement soon after its announcement on Tuesday.
"World powers have made far-reaching concessions in all areas that were supposed to prevent Iran from obtaining a nuclear weapons capability," he said on Twitter.
Obama, Netanyahu
Obama called Netanyahu about the deal later on Tuesday. Obama told him that the accord would "verifiably prevent Iran from obtaining a nuclear weapon while ensuring the peaceful nature of Iran's nuclear program going forward," according to a statement from the White House.
Defense Secretary Ashton Carter will visit Israel next week, "a reflection of the unprecedented level of security cooperation between the United States and Israel," Obama told Netanyahu, according to the statement.
Obama is happy with the agreement, considering it stronger than he expected, in part because it retains restrictions on sales of conventional weapons to Iran, a second administration official said. Russia and China had lobbied for those restrictions to be dropped.
Both officials requested anonymity to discuss details of the negotiations.
Congratulated Kerry
The White House learned Monday afternoon in Washington that negotiators in Vienna had struck a deal. Obama's national security aides informed him of the accord, and he immediately called his lead negotiator, Secretary of State John Kerry, to confirm details and congratulate him, one of the officials said.
Congressional power to stop the deal is limited. Legislation Obama signed in May allows lawmakers 60 days to review the agreement and, if they choose, pass a resolution of disapproval. Obama said he would veto that resolution, however, requiring two-thirds majorities in the House and Senate to override him and block the Iran accord.
Biden's presence during Obama's remarks sent an important signal to two audiences: Congress, where the vice president has been deeply involved in rallying support for the deal; and in Israel, where he has long-standing relations and deeper goodwill than Obama.
Obama's outreach to Iran dates to the start of his presidency. In a March 2009 video message celebrating the Persian new year, Obama told the Iranian people and the government under then-president Mahmoud Ahmadinejad that the U.S. was committed to "engagement that is honest and grounded in mutual respect."
'Rightful Place'
In the video, which included Farsi subtitles, he said he wanted Iran to "take its rightful place in the community of nations" while saying it couldn't achieve that through terror or arms.
By 2013, with secret talks between U.S. and Iranian officials under way, the U.S. saw Hassan Rouhani's election as Iran's president as a greater opening for engagement. The two leaders spoke by phone in a 15-minute call that was historic in its own right, the highest-level U.S.-Iranian encounter since before Iran's Islamic revolution of 1979.
"Khoda Hafez," Obama said to close the call, a way to say goodbye in Farsi that translates to "God be with you."
By this year, a deal seemed possible though not certain. Two weeks after a framework agreement was announced April 2, Obama said in a news conference that the talks with Iran required "creative negotiations." It was possible to craft a deal, he said, in which sanctions could be snapped back into place if Iran cheated.
Missed Deadlines
Negotiators missed three deadlines since June but kept going.
The U.S. has yet to secure the release of at least three Americans held by Iran, including journalist Jason Rezaian, who faces espionage charges. Obama said in April that Rezaian was wrongly held and "we will not rest until we bring him home to his family, safe and sound."
Iranian authorities held a third hearing on Rezaian's charges on Monday "without conclusion," Marty Baron, the executive editor of the Washington Post, Rezaian's employer, said in a statement on Monday.
"We call again on Iran to deliver a speedy, fair and impartial judgment in Jason's case, one that could only result in his acquittal, immediate release, and a long-overdue reunion with his family," Baron said.