politics
Hillary Clinton Calls Iran Nuclear Deal 'Important Step'
She speaks after meeting with House Democrats on Capitol Hill in Washington.
By and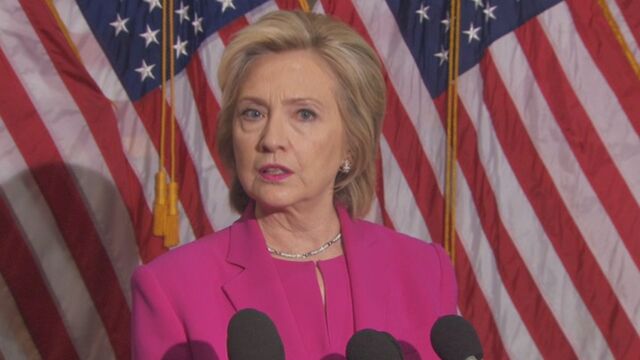 Democratic presidential front-runner Hillary Clinton said Tuesday that based on what she knows about the deal that Iran and world powers reached Tuesday, the agreement is an "important step" in putting the lid on that nation's nuclear program.
Clinton spoke after meeting with House Democrats on Capitol Hill in Washington. She didn't specifically urge members to support the deal or discuss the potential challenge of protecting it against Republican congressional majorities that appear broadly opposed to it, several Democratic lawmakers said.
"She said this was the same kind of arms agreement that other presidents have worked on, but much more important because of the tenor of the times, and what's going on in the region," Representative Louise Slaughter said, predicting Democrats would have the votes to sustain a presidential veto if it came to that.
Representative Gerry Connolly of Virginia said Clinton had given the deal a "full-throated endorsement." Facing the cameras, Clinton was measured, saying the agreement would have to be enforced "vigorously" and Iran's "bad behavior" on human rights must be addressed.
The former secretary of state "said it's not perfect—no deal is perfect—but it's better than the alternatives," Representative Jerrold Nadler of New York said.
She told House Democrats the deal was the fruit of work she began as secretary of state aimed at freezing and rolling back much of Iran's nuclear program, according to Connolly. "She thinks it's a very positive development," he said.
Speaking to reporters earlier Tuesday at a Christian Science Monitor breakfast in Washington, senior Clinton policy adviser Jake Sullivan acknowledged that the candidate helped lay the groundwork for the deal during her time as secretary of state during President Barack Obama's first term.
"Secretary Clinton was centrally involved in the outset of all of this in building the global sanctions ... and starting the diplomacy that resulted in what happened today," said Sullivan, who was also part of the process as a State Department aide to Clinton and a national security adviser to Vice President Joe Biden. Speaking on his own behalf, he later added: "I believe that this deal is the best and most effective way to prevent Iran" from getting nuclear weapons.
(Adds Clinton comments starting in fourth paragraph.)
Before it's here, it's on the Bloomberg Terminal.
LEARN MORE