Herd Mentality in U.S. Stocks Is Making for Wilder Rides in VIX
Callie Bost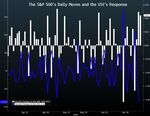 Big moves in U.S. stocks have been so rare lately that when they do happen, the rush to hedge is violent.
Anxiousness among investors has led to unusually large jumps in the Chicago Board Options Exchange Volatility Index, which measures hedging costs on the Standard & Poor's 500 Index. When calm has been restored, the volatility gauge has dropped just as quickly.
"There has been a lot of investor reflexivity around the situations in Greece and China," said Nitin Saksena, head of U.S. equity derivatives research at Bank of America Merrill Lynch. "People have been quick to put on hedges when they see weakness, then people have quickly monetized hedges when they get a reversal in the information. It's driving outsized moves in the VIX in both directions."
Investors have rushed in and out of S&P 500 hedges this year as they brace themselves against turmoil overseas and changes in monetary policy roil other markets. It's been showing up in the VIX, which moves in the opposite direction of stocks about 80 percent of the time.
Herd Mentality
Sensitivity in the volatility gauge has been especially evident over the past month as Greece's debt impasse escalated and Chinese equities entered a bear market. Steeper reactions have come partly because the VIX has spent most of the year below historical levels, hovering around 15 compared with its long-term mean of around 20.
Since April, the VIX has jumped an average of 17 percent on days when the S&P 500 fell 1 percent or more, compared with 12 percent on average for similar daily moves since the start of the bull market, according to Bloomberg data.
On June 29, the day Greece shut banks and imposed capital controls, the VIX increased 34 percent, the most since April 2013, as the S&P 500 slid 2.1 percent.
The volatility gauge jumped again on July 8, rising 22 percent, its second-biggest gain this year, as the S&P 500 lost 1.7 percent, a drop it has matched only three times this year. That day, Chinese stocks' rout ignited a wave of risk aversion as sellers were blocked from the market.
The VIX decreased 30 percent Friday and Monday, its sharpest two-day drop in more than two years, as Greece reached an agreement with its creditors and the Shanghai Composite Index reversed course.
"It's challenging for investors to forecast how Greece and China will resolve themselves," Saksena said. "You get negative news flow and people respond, then others respond, and that spirals into a feedback loop. You then get a positive event and things reverse sharply."
VIX Lurches
Traders have recently flocked to S&P 500 options, seeking a cheaper way to hedge other asset classes after they bid up those forms of protection. While the VIX has dropped below its 12-month average, measures of implied volatilities on longer-dated Treasuries and currencies remain above theirs.
"One catalyst is the participation from people who are not active in equity markets," said Jared Woodard, a senior equity derivatives strategist at BGC Partners LP in New York. "On days when the market sells off, you're seeing more demand waiting in the wings for protection."
The growing popularity of exchange-traded products linked to volatility has further amplified moves in the VIX as dealers of the products hedge investors' positions, Woodard said. Shares outstanding in the iPath S&P 500 VIX Short-Term Futures ETN, the most popular exchange-traded note comprised of VIX futures, reached a record at the end of last month.
'Off-Guard'
Even as the VIX swings wildly, S&P 500 hedges aren't nearly as expensive as they've been in past selloffs, indicating traders aren't exhibiting as much panic as they have in the past. The volatility gauge hasn't closed above its all-time average of about 20 since January.
Still, measures of correlation between the S&P 500 and VIX also point to "near-panic conditions" in the market, Sundial Capital Research Inc.'s Jason Goepfert wrote in a July 1 note. The two gauges are trading the most inverse to each other since December 2011, Bloomberg data show.
Speculators in contracts betting on the future path of the volatility gauge see more wild swings ahead. Traders exchanged about 1.9 million VIX calls Monday, a record for volume in those contracts, as the gauge dropped 17 percent to 13.9.
The VIX dropped 3.8 percent to 13.37 at 4 p.m. in New York.
"All indicators point to higher volatility and you're seeing that play out in what individual traders and speculators are preparing for," said Eric Augustyn, head of options strategy for Wells Fargo Investment Institute. "Given it's the summer and it's usually quieter, it's really caught people off-guard."