politics
Obama Is Ready to Vanquish All Threats to Iran Deal in Congress
Anticipating a fierce lobbying and media battle with opponents of the deal, Obama plans to make his case to individual members of Congress as well as to the American people.
By and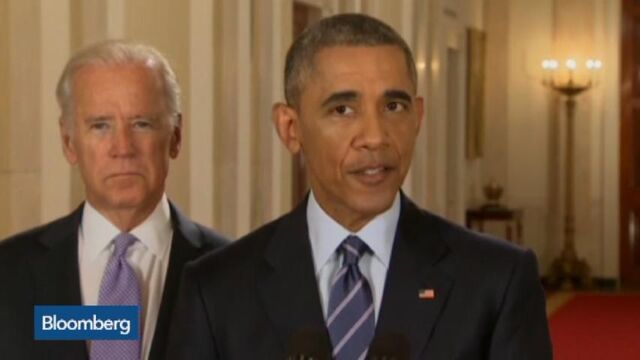 Well before the nuclear deal with Iran was inked, President Barack Obama was gearing up for the fight over the agreement back home.
"Congress will now have an opportunity to review the details, and my administration stands ready to provide extensive briefings on how this will move forward," Obama said as he announced the deal early Tuesday morning at the White House. Then he previewed the core of the case he'll be making:  "No deal means a greater chance of more war in the Middle East."  Others strongly differ, and hours after the president's appearance, the battle already was engaged.
"You're going to have a huge campaign on both sides," said Dennis Ross of the Washington Institute for Near East Policy, a veteran Middle East diplomat who advised Obama on Iran during the president's first term. "The administration will launch a huge campaign to get support for this and those who are against it are going to be as active, as vocal, to do as much as they can to see if it can be blocked by Congress."
Obama will make his case to individual members of Congress as well as to the American people, administration officials said on Tuesday, shortly after the president announced the deal. The officials spoke on condition of anonymity to provide more detail beyond the president's remarks. 
The president and his political advisers expect a major push to pressure Congress to stop a deal from opponents who say Iran can't be trusted and that the terms are too weak, and an effort to use that argument to hurt Democrats' chance to retain the White House in next year's elections.  Skeptics are likely to be well organized and well-funded, and include prominent supporters of Israel. The Jewish state's prime minister, Benjamin Netanyahu, has been a vocal critic of the talks with Iran. While the American Israel Public Affairs Committee, a well-connected lobbying powerhouse that has been mobilizing opposition behind the scenes said Tuesday it wouldn't comment on the deal until after a review of the details, other, more partisan critics were more upfront. That includes the Republican Jewish Coalition, which already is planning a social media campaign against the agreement. One of the group's leaders and key backers: political mega-donor Sheldon Adelson, who with his wife spent some $100 million during the 2012 campaign trying to defeat Obama. 
The Emergency Commmittee for Israel, a group co-chaired by conservative writer Bill Kristol and evangelical activist Gary Bauer, has produced an ad pressuring Senator Chuck Schumer, a New York Democrat, to opppose the deal. According to RealClearPolitics, the ad is running on New York cable stations and social media. 
"I anticipate fierce lobbying by the groups that oppose a deal to get Congress to vote no," said Louis Susman, Obama's former Ambassador to the United Kingdom and one of the administration's validators for an Iran deal. Susman is in regular contact with the State Department and the White House, he said. "I will be taking my lead from them if there's anything they want me to do."
One adviser said the administration is confident the deal merits enough support to survive even if lawmakers were to vote to disapprove of it. That would prompt a veto by Obama, requiring a two-thirds vote in each congressional chamber to override him -- a vote that opponents of the deal almost certainly couldn't win.
The president and his aides are aiming to avoid any of those steps, however.
The White House has for months been holding conference calls and meetings with interest groups and sought to win over skeptical Jewish leaders. Vice President Joe Biden also has been recruiting backers. Obama himself has met with American Jewish organizations and Jewish political supporters about the negotiations. He discussed Iran when he invited Senate Democrats to the White House last week.
In the weeks leading up to the agreement, the White House stepped up its coordination with sympathetic policy experts, diplomats, Jewish-American advocacy groups, political donors and lawmakers who can serve as validators on television, in op-ed pages and on Capitol Hill . More than 100 people participated on a private White House call last week. Other, more targeted discussions involved the White House's National Security Council, Office of Public Engagement and legislative affairs staff. The administration is looking to a network of advocates who can reach niche audiences that may sway opinions about the agreement among key members of Congress or the Jewish-American activist and donor communities.
"People are going to want to see that people that strongly identify with Israel, people who strongly identify themselves as Zionists and are proud to proclaim it, also support the administration's efforts -- I think that's the key," said Robert Wexler, president of the S. Daniel Abraham Center for Middle East Peace in Washington and a former Democratic congressman from Florida, who is supporting the administration's effort. "It's important for the White House to have identifiably pro-Israel former government officials support or lay out the arguments why the agreement is in the national security interests of the United States and to explain why and how the United States can ensure that the agreement is consistent with Israel's national security interests."
There will be "many stages to the public debate," said Wexler, beginning with the first 48 hours, when each side will be involved in a media blitz to try to frame it in the light most favorable to their views. But after that, there will be a second wave of  op-eds, conversations with lawmakers and town-hall meetings, stretching through Congress' August recess, a time when it may be more difficult to hold the attention of Americans vacationing or spending time with their children.
"Supporters of peacefully ensuring Iran does not acquire a nuclear weapon need to be engaged in defending a deal which achieves that," said Dylan Williams, vice president of government affairs for J Street, an organization of liberal-leaning Jewish Americans supportive of the negotiations with Iran. "The only way to counter a large amount of money by a small number of people is with a demonstration of broad support not just among non-proliferation experts and the security establishment but among the constituents of congresspeople themselves." But supporters of a deal also have access to major resources, Bloomberg has reported, including millions of dollars from the Rockefeller family. 
On the other side, opponents of the deal are ramping up too. The Foundation for American Security and Freedom, which was founded by former George W. Bush U.N. Ambassador John Bolton, will spend $50,000 to run ads in key primary states linking the deal to Democratic presidential front-runner Hillary Clinton. "Hillary Clinton's tenure as [President Obama's] secretary of state was an integral part of the diplomacy that will lead to this signing ceremony in Vienna," said Bolton, who also founded a super-PAC that spent nearly $6 million in 2014, according to the Center for Responsive Politics.
Another group, Christians United for Israel, which is holding its annual conference in Washington this week, told the Washington Post it is formally expanding its lobbying operations with the help of pro-Israel evangelical activist Bauer, a former Republican presidential candidate. CUFI founder's, pastor John Hagee, underscored the message on Twitter.
The Zionist Organization of America is focusing on the legislative branch, employing two lobbyists to talk to Congress full-time, according to the group's president Morton A. Klein. The organization has also bought radio ads, is writing op-eds, urged influential rabbis to speak out against the deal in their synagogues, sought out pro-Israel evangelical Christian groups, and is involved in organizing a July 22 rally in New York. Klein, who likened a nuclear deal with Iran to "giving nuclear weapons and funds to Adolf Hitler and Nazi Germany," said he believes at least 52 of the Senate's 54 Republicans and around 10 Democrats will oppose a deal. While 64 votes would allow the chamber to vote down a deal without concerns of a filibuster, it wouldn't override a presidential veto.
Speakers at the rally, which organizers say may attract up to 20,000 to Times Square, are an ideologically diverse group. They include Alan Dershowitz, a Harvard law professor and civil liberties lawyer; James Woolsey, who served as CIA director under former President Bill Clinton; former Republican congressmen Pete Hoekstra and Allen West, and 95-year-old Robert Morgenthau, who served as Manhattan's district attorney for 34 years until 2009.
Mark McNulty, communications director at the Republican Jewish Coalition, said his group will use social media to get Americans to demand opposition on the deal. "We're focusing on members of Congress and putting pressure on them through the phone lines, through letters and through their constituents." He said he expects "smart" Republican presidential candidates to condemn any deal loudly. Activists and donors, McNulty predicted, will "reward them with support."
(Updates AIPAC position and corrects full name of the organization.)
Before it's here, it's on the Bloomberg Terminal.
LEARN MORE