Carney Says Time for BOE Rate Increase Is Moving Closer
Jennifer Ryan and Jillian Ward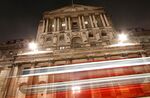 Bank of England Governor Mark Carney said officials are edging closer to tightening policy as the economic recovery continues.
"The point at which interest rates may begin to rise is moving closer given the performance of the economy," Carney told lawmakers at a Parliament hearing in London on Tuesday. This is "counterbalanced somewhat by disinflation."
The comments, the governor's first on monetary policy in weeks, came shortly after data showed Britain's inflation rate fell back to zero in June, led by prices for food and clothing. The BOE's Monetary Policy Committee is nevertheless focused on the outlook for the labor market, with a pickup in wage growth prompting some members to say an increase in interest rates will be needed soon.
"Wages are beginning to grow, interest rates are at historically low levels, and so households should begin to manage their finances with the assumption that there should be an upward adjustment in interest rates," Carney said. "There will inevitably be shocks and adjustments" given high debt levels, though households "have been making progress in reducing their exposure."
Carney also reiterated his expectation that the path for interest-rate increases would be limited and gradual. Investor expectations for the first interest rate increases have shifted to May 2016 from August of that year.
'Weak Investment'
Policy maker David Miles said that despite the central bank keeping its key interest rate at 0.5 percent, people's inflation expectations "seem quite anchored" two or three years ahead. The bank has held the key rate at that record-low level since March 2009.
"We have had relatively weak investment over the last few years, but my view is this is not a long-term downward shift in people's desire to invest, more about being in a deep recession," Miles said. "We're still dealing with the thankfully fading crisis of 2008, and I don't think that's a guide for new normal interest rates."
Data on Wednesday will show earnings rose an annual 3 percent in the three months through May, compared with 2.7 percent in April, economists forecast in a Bloomberg survey. Including bonuses, wages increased 3.3 percent. Unemployment probably stayed at its lowest since 2008.
Read this next: