At La Raza's Democratic Forum, Donald Trump Is the Piñata
In Kansas City, three Democratic primary opponents speak with one voice—sometimes in Spanish.
By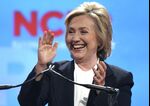 Democratic presidential rivals Bernie Sanders, Martin O'Malley, and Hillary Clinton all spoke at the National Council of La Raza's annual conference on Monday, but the most talked-about candidate in the Kansas City Convention Center was Republican contender Donald Trump, whose recent comments about Mexican immigrants were cited again and again as offensive, uninformed, and motivational for Latino organizers.
Trump was the only rival Sanders or O'Malley mentioned, and the one all of the Democrats pushed off against.
O'Malley, the former governor of Maryland, was strongest in his denunciations, saying that if Trump, "wants to keep spewing hate, he should go back to the 1840s and run for the nomination of the Know-Nothing Party" of anti-immigrant, anti-Catholic nativists.
Sanders vowed that "no one—not Donald Trump, not anyone else—will be successful in dividing us" as a country.
And Clinton, who recalled babysitting for the children of migrant workers at her church, told the crowd of about 2,000 that "it was appalling to hear Donald Trump describe immigrants as rapists, drug dealers and criminals. I have just one word for Mr. Trump: Basta." Enough. "Why did it take weeks for the others in his party to speak out against those remarks?'' she asked. "Normally, you're such a talkative bunch."
O'Malley, who accepted the group's invitation before Clinton did and was the keynote speaker, said "the real problem isn't that the Republicans have such a hate-spewing candidate. The problem is it's so hard to tell him apart from any of their other candidates."
Citing a Los Angeles Times headline that other Republican contenders were "divided" over Trump's remarks, O'Malley said, "there's nothing to be divided about."
He touted his own record of successfully pushing a Maryland version of the Dream Act, which protects young people brought to this country as children from deportation. He also talked abut welcoming thousands of children fleeing gang violence in Central America to Maryland last summer, at a time when he said some other governors were treating the unaccompanied minors like "some kind of invading smarm of jackrabbits.''
"Palabras no son hechos,'' he said. Translation: Words aren't actions.
O'Malley said he'd been so struck by meeting one of those unaccompanied minors, a 13-year-old from Guatemala who couldn't speak much English but when "he shook me by the hand, he immediately released and hugged me around the waist in an embrace I'll never forget."
"Who believes most in the American dream?" he asked the group in closing. "Everyone who has ever risked his life to get here."
Both O'Malley and Sanders spoke of the immigrant experiences in their own families, and O'Malley said that as mayor of Baltimore, he'd kept a sign on his desk from the 1890s that said "No Irish Need Apply." That was to remind him, he said, "that we're all strangers in a strange land, and we're all in this together."
"I know something about immigration,'' Sanders said, since his dad arrived in this country from Poland "with not a nickel in his pocket.'' His parents raised their family in "a three-and-a-half room rent-controlled apartment in Brooklyn, New York,'' yet were able to send their two kids to college.
Without undocumented workers, "it's likely that our agricultural system would collapse,'' he told a smaller group in a morning session of the conference. They take care of our kids, cook our food, and deserve "a responsible path to citizenship so they can walk the streets with safety and hold their heads high.''
Housing and Urban Development Secretary Julian Castro, who is often mentioned as a possible vice-presidential pick, also spoke at the conference, and also castigated Trump, saying, "his remarks would be laughable if they weren't so insulting."
Clinton was running a little over an hour late, so while the crowd waited for her, a 13-year-old Mariachi singer and a comedian filled the time, and the latter mentioned Trump, too.
Marcelo Claure, the Bolivian-born CEO of Sprint, one of the conference sponsors, spoke in the interim as well, and joked that the former secretary of state was clearly running on Latino time. (And yes, PC or not, the crowd laughed.)
Clinton came out boogying a little to the music that played as she stepped to the microphone. Mostly, she gave her stump speech, touching on wage stagnation, student debt, equal pay, early childhood education and her new granddaughter, Charlotte.
But she also said that if we want our economy to grow, "we need finally to pass comprehensive immigration reform,'' which she called a family, economic and moral imperative. "As president I will fight every day for comprehensive immigration reform, with a real path for citizenship."
She singled out two of her Republican rivals besides Trump, also blasting former Florida governor Jeb Bush's recent comment that Americans need to work more hours: "He should tell that to the farm workers picking fruit in Southern California." And she said Wisconsin Governor Scott Walker "has made his name stomping on workers' rights."
With a growing Latino population, the Hispanic vote has never been more important, though turnout has remained a challenge even as Mitt Romney's 2012 loss was chalked up in no small part to his dismal showing among Latinos.
As he left the ballroom where O'Malley and Clinton had spoken, ESL director Jose Rodriguez said both candidates had impressed him, but "the audience was already restless by the time Hillary spoke."
Lisa Lopez, of Kansas City, said she was quite taken with O'Malley, but had never heard of him before, and feels Clinton better understands her experience as a single mother. She also would have liked to hear from some of the Republican candidates, she said, but "evidently they don't think the Hispanic vote is important."
Armory Sanchez, of Brooklyn, said he thought Sanders had done the best job of the three candidates: "I'd never heard him before, but he's so energetic." Asked if he'd consider supporting any of the Republican contenders, he said no, because "they've forgotten what makes this country great."