What's in the Bailout Deal for Greece and What Happens Next?
Jenny Paris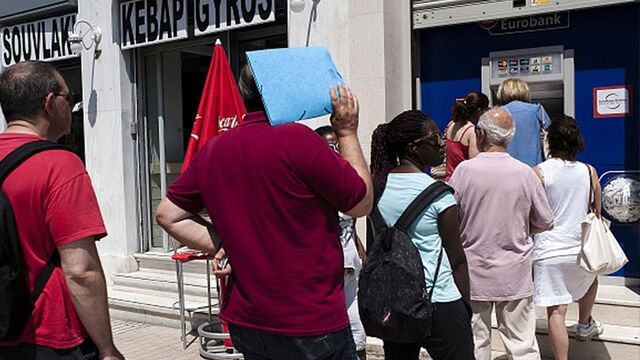 Greece has to go through a laundry list of actions and commit with concrete steps to reforms before sealing a new bailout of as much as 86 billion euros ($96 billion) that will keep the country in the euro.
The role of the International Monetary Fund and Germany's demand for an independent asset sales fund came close to becoming deal-breakers before an agreement was reached between the country and its creditors after almost 17 hours of talks. The IMF's continued role was assured in any future loans to Greece.
Greece must now take a series of steps to rebuild trust with its European partners and creditors after six months of talks brought the country to the brink of a euro exit:
Next Steps
* Euro-area finance ministers will hold a scheduled meeting later Monday in which they're expected to look into bridge financing options that will keep Greece and its banks afloat while a longer-term loan agreement is negotiated. Greece's urgent financing needs are estimated at 7 billion euros by July 20, including a payment of 3.5 billion euros to the European Central Bank due July 20, and another 5 billion euros by mid-August according to statement issued by euro area leaders.
* The European Central Bank will also discuss whether to maintain or extend emergency funding for Greek banks, which remain closed for the third week.
* Greece's parliament has until Wednesday to approve an initial set of reforms, including tax and pension reforms. A second set of reforms, including additional measures taking into account the economy's deterioration and the establishment of a 50-billion-euro asset fund, will have to be legislated on by July 22.
* At least seven other European nations -- Germany, the Netherlands, France, Austria, Slovakia, Estonia and Finland -- plan to hold parliamentary votes to seek approval for a bailout deal with Greece.
* Once Greece enacts reforms, euro-area finance ministers will hold formal talks on granting a three-year bailout loan from the European Stability Mechanism to Greece.
Financing and Debt
Greece's financing needs are estimated between 82 billion euros and 86 billion euros over the next three years. Loans are also expected to include a buffer of 10 billion to 25 billion euros for the banking sector for recapitalization and potential resolution costs of the country's banks, which have been closed since capital controls were introduced on June 29. Upon agreement of a deal, 10 billion euros will be made available immediately in a segregated account at the ESM.
There will be no nominal haircuts on Greece's debt. The Eurogroup will consider, in line with a November 2012 statement, if possible additional measures, such as longer grace and payment periods, are necessary to ensure the country's debt remains sustainable. These steps will be conditional upon implementation of measures agreed by Greece.
The European Commission will separately mobilize funds of up to 35 billion euros under various EU programs as part of a growth plan to finance economic activities in Greece, starting with an immediate 1 billion euro boost to investment.
Asset Sales
Central to the new program is the establishment of a 50 billion-euro asset fund that will be used to implement a scaled-up privatization program. Valuable Greek assets will be transferred to the fund to be monetized through privatizations or other means through the life of the ESM loans targeting proceeds of 50 billion euros.
Half of those loans will be used for the repayment of recapitalization of Greek banks and the rest for paying down debt and investments. The fund will be established in Greece and be managed by Greek authorities under the supervision of European Institutions, a concession from an initial proposal that it be based and managed in Luxembourg.
Tax, Fiscal Reforms
Steps include the streamlining of the value-added tax system and broadening of the tax base to increase revenue. Greece must introduce quasi-automatic spending cuts if it deviates from primary surplus targets. Reform measures also need to be "seriously strengthened" to take into account the deterioration of the economy during the last year.
With the exception of a humanitarian crisis bill, the government must also reverse policies introduced since a Feb. 20 agreement that backtracked on previous program commitments or identify equivalent measures.
Pension Reforms
Upfront measures to improve long-term sustainability of the pension system, including elimination of early retirement options and implementation of a zero-deficit clause by October 2015. The government must also specify policies to compensate for the fiscal impact of a Constitutional Court ruling on the 2012 pension reform which reversed certain pension cuts.
Product Markets
Adopt reforms recommended by the OECD by opening closed professions and freeing up trade restrictions involving Sunday trade, sales periods, pharmacy ownership, milk and bakeries. The government must also proceed with the privatization of the electricity transmission network operator, or ADMIE, which it had insisted to keep under state control, unless it can find measures with an equivalent effect.
Labor Reforms
Rigorous review and modernization of collective bargaining in line with EU directives and best practices, which shouldn't involve a return to past policies that aren't compatible with promoting growth.
Technical Work
Greece must fully normalize relations with the creditor institutions, formerly known as the Troika, allowing them to return to Athens to conduct technical work and monitoring on the ground.