Watches
These Watches Won Wimbledon
Rose gold is in on Center Court
By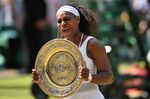 Some serious hardware was on display at Wimbledon this weekend, and I'm not talking about the trophies. Both the men's and women's champions, Novak Djokovic and Serena Williams, sported bold watches as they celebrated their victories on Center Court. As the cameras start flashing, the watch sponsors end up winning just as much as the athletes.
Serena Williams took Wimbledon for the sixth time on Saturday, wearing an Audemars Piguet Ladies Royal Oak Offshore ($31,300). And she didn't just strap the watch on during the award ceremony like Djokovic: She actually won with the watch on her wrist. This watch is a far cry from the ultra lightweight, space-age Richard Mille that Rafael Nadal plays with. No cutting-edge alloys or hybrid fabric straps here, just a solid rose gold case, a smattering of diamonds, and a bright white rubber strap. I'd barely be able to lift my wrist while wearing one, let alone swing a tennis racquet. Perhaps it's all part of her training?

On Sunday, Novak Djokovic lifted (and sensually kissed) the Wimbledon Cup with his namesake Seiko Astron GPS Solar Novak Djokovic Limited Edition ($1,925) popping just so on his wrist. Djokovic's watch is Japanese instead of Swiss (to match his Uniqlo outfit) and the most complicated Astron to date. The rose-gold colored case has a contrasting black ceramic bezel and a proprietary chronograph movement under the dial that uses GPS satellites to reset the time when you change locations. Bonus: It charges via solar energy. There are only 2,500 pieces worldwide. When Djokovic boards a quick flight from Wimbledon to the US Open, the watch will turn back five hours when he steps off the plane in New York. It looks pretty great next to that trophy, too, doesn't it? 

Of course, these weren't the only watches on display on the courts. Besides the oversize Rolex logos adorning almost every surface (which actually look perfectly at home at Wimbledon, if you ask me), the men's runner-up, Mr. Switzerland himself, Roger Federer, had a Rolex on his wrist in the winners circle too. It was tough to see under his cuff, but my guess is a 40mm platinum Day-Date. Women's runner-up Garbine Muguruza received her trophy without a watch, but it's hard to think of a better way to court watch sponsors than playing in the Wimbledon final. I can't imagine she'll be showing up with bare wrists for much longer.
Before it's here, it's on the Bloomberg Terminal.
LEARN MORE