The Definitive H&H Scott Walker Scouting Report
Can he sustain his status as a crossover conservative if he continues to let his rightward moves on cultural issues obscure his desire to focus on economics and national security?
By and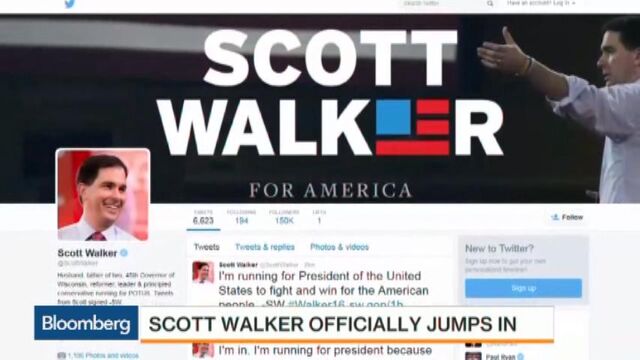 What he's got: Executive experience as two-term governor of Wisconsin; victories at the polls three times in four years (including his 2012 recall election), against fierce and well-funded opposition in a politically divided state; status as a hero among conservatives due to his battles with public- and private-sector unions over collective bargaining and right-to-work; national donor network arising out of the preceding; a fresh batch of legislative wins on issues that excite the right; potential to garner support from Republican establishmentarians, Tea Party stalwarts, and Christian conservatives; proximity to and pronounced strength in Iowa; better skills in donor salons and greater ease on the big stage than many expected.
What he lacks: Answers to questions about his authenticity voiced increasingly by party leaders, donors, and the press as he veers sharply rightward on issues ranging from immigration to same-sex marriage; national security credentials; certainty he won't become embroiled in a potentially distracting state criminal investigation into allegations of improper coordination between his recall campaign and independent conservative groups; foreign or domestic policy chops on par with other top-flight 2016ers; a robust approval rating in his home state (it stands currently at 41 percent); a clear path to the nomination if he stumbles in Iowa; crackling charisma; a college degree.
Biggest question mark: Can he sustain his status as a crossover conservative—along with his prospects outside Iowa and general-election viability—if he continues to let his rightward moves on cultural issues obscure his desire to focus on economics and national security?
Message: "Government closest to the people is the most responsive and accountable to the people."
Signature issues: Beating back organized labor; federalism; education reform; religious liberty.
Core constituencies: Wal-Mart (or, in his case, Kohl's) Republicans; evangelicals and others on the Christian right; union-haters; outsider-lovers; Midwestern and rural voters. 
Fundraising mojo: Dropped out of 2006 gubernatorial race because of insufficient funds, but those days are far behind him; raised $45 million for the recall battle, much of it from outside the Badger State, and built strong ties to the Koch Brothers and other deep conservative pockets; solid, if not Bush-level, support from bundlers, though the hardening of his stances on social issues has alienated some on Wall Street; significant super-PAC possibilities, but online and small-donor prospects less clear (although he does have a vast e-mail list).
Spouse and family: Spunky, savvy, non-wallflowery wife, Tonette, seems to relish playing a big role both on- and off-stage in her spouse's political career; two college-age sons who are taking off from school this fall to help their father on the campaign trail.
Perceived electability as Republican nominee: Considerable Electoral College potential in the Midwest and Rust Belt twinned with considerable risk of weakness in the West and with key constituencies (Hispanics, suburbanites) due to his positions on immigration, same-sex marriage, abortion, etc.
National-security credentials: Pretty much limited to foreign travel, of which he has done a fair amount this year (London in February; Germany, Spain, and France in April; Israel in May; Canada in June), although the impact of his globe-trotting has been muted by his resistance to taking questions from the press while on foreign soil.
Television skills: Calm, collected, and straight-faced in interviews, even in situations where he is walking back the provocative slips of the tongue or apparent position shifts to which he has at times been prone.
Social media/online chops: Mediocre 149k followers of his campaign Twitter account and 310k on Facebook; both feeds feature bland postings of pictures of him shaking hands or links to his website; on Instagram (9.8k), however, has greater tendency to let his Harley-riding, red meat-loving self show through. 
Media coverage: Still establishing relationships with most national reporters and commentators, who treat him respectfully—i.e., as a plausible nominee—but with increasing skepticism as they observe his apparent tactical maneuvers, shifting policy stances, and relative reticence (especially compared to Jeb Bush) to give direct answers to the hardest questions. 
Polling strength: Nearly six months at the top of every Iowa poll has made him the clear, if not prohibitive, frontrunner in the Hawkeye State; consistently near the top, often trailing only Bush (and, increasingly, Donald Trump) in other early states and nationally.
The Big Mo: A blistering winter, when he established himself as a force with a series of attention-grabbing performances in Iowa and at cattle calls around the country, was followed by a fairly quiet/tepid spring and early summer; could use a big-time announcement to restart his engines.
Fire in the belly: No one doubts his self-confidence or hunger for the Oval Office; what remains untested his fortitude in the face of the invasive media scrutiny, opposition-research dumps, and direct attacks from rivals that are surely coming his way.
The hang test: Between his modest upbringing as a pastor's son, blue-collar demeanor, and regular-guy enthusiasms, tends to work well in small rooms, where voters find him both approachable and relatable.
Challenges party orthodoxy: Proposals to use taxpayer money to pay for half of a new $500 million arena for the Milwaukee Bucks and to borrow $1.3 billion to finance state transportation projects raise hackles among fiscal hawks. 
Best moment of 2016 cycle so far: His breakout speech at the Iowa Freedom Summit in January.
Worst moment of 2016 cycle so far: Becoming ensnared in a protracted controversy over his position on immigration that left him struggling to bat away charges that he had not only flipped and flopped and flipped, but was saying different things in public and in private.
Best Bloomberg Politics moment: Discussing the possibility of a Walker-Rubio (as opposed to a Rubio-Walker) ticket.