politics
Scott Walker Exudes Confidence in Campaign Kickoff
Analyzing the style, substance, and impact of the Wisconsin governor's presidential announcement.
By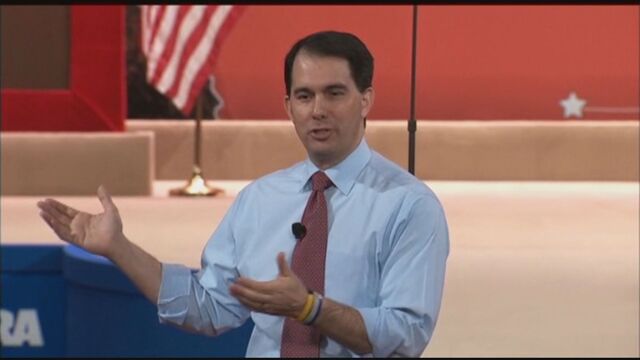 Style: Pure Scott Walker: no suit jacket, no tie, no podium, no teleprompter. His hard work honing his stump speech for months paid off big time with a performance confident and fluid throughout. Unabashedly patriotic, conservative, and ideological. Questionably used "we" in the money, running-for-president line. The staging of the event was not quite as purely pro as some of the other kickoffs and the lack of sufficient air conditioning caused even Walker to seem warm at times.
Substance: Bragged on Wisconsin record on unions, drug testing, education, and more. Called for repeal of the Affordable Care Act, but had no specifics on a replacement. Called for Keystone pipeline approval, but was otherwise equally vague on energy changes. Boilerplate criticisms of the Obama-Clinton foreign policy.

Best moment: The entrance into the loving arms of his wife and two sons and rapturous crowd reaction projected a tableau of emotion and intensity that reflects Walker's greatest political strengths.
Worst moment: His beloved story about getting discounts at Kohl's department store was less intense than the most of the rest of the speech, draining the fever pitch intensity from the room.
Overall: Impressive distillation of the national message he has been honing for years. Displayed every positive trait that has allowed him to vault to the top of the field. Unintimidated, as advertised (but the speech won't necessarily intimidate his rivals). The Walker campaign is built around Walker himself to a large degree. He put on offer everything he's got and now will start peddling it retail around the country. Still has much to prove now that he is fully in the arena, on matters such as foreign policy gravitas that this speech didn't address. Still, as big time an announcement as he could have hoped for.
Note: The overall grade is NOT an average of the style and substance grades, but takes into account other aspects of the announcement as well, such as staging and crowd reaction. In addition, a candidate's overall grade reflects the degree to which the candidate's standing in the race is improved by the event and performance.
Before it's here, it's on the Bloomberg Terminal.
LEARN MORE