Puerto Rico Says Too Soon to Say How Bondholders Will Fare
Michelle Kaske, Laura J. Keller and Brian Chappatta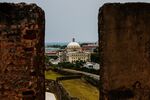 Puerto Rico's top finance official said it's too soon to discuss how creditors will be affected while making the case for a restructuring of the commonwealth's $72 billion of debt during an investor meeting in New York.
As a few dozen protesters outside chanted "you broke it, you fix it," Government Development Bank president Melba Acosta addressed about 300 representatives of investment funds, insurance companies and other creditors gathered at Citigroup Inc.'s Park Avenue headquarters Monday. While she pressed the case for easing the fiscal burden on the commonwealth, she said it was "premature" to discuss which debt may be affected until officials develop a plan to turn around its finances.
"I ask for your patience while we develop a credible plan," she said during her speech.
It was Puerto Rico's first public meeting with investors since Governor Alejandro Garcia Padilla last month said the junk-rated commonwealth can't afford to pay its debts. Puerto Rico bond prices have tumbled amid speculation that the island of 3.5 million is veering toward an unprecedented default, after selling more debt than any U.S. state except New York or California.
The governor directed island officials to create a restructuring plan by Aug. 30.
Avoiding Lawsuits
Jim Millstein, a former Treasury Department official who is advising Puerto Rico, said the government will look at each of its agencies before deciding which debt it may seek to adjust. He said the Aqueduct and Sewer Authority, for example, should be able to meet its existing obligations.
Millstein said Puerto Rico wants to avoid litigation that would prolong the process.
"We are hopeful that we can preempt that with an open and transparent process," he said.
The meeting focused on a report prepared for Puerto Rico by three former International Monetary Fund officials. Released two weeks ago, it recommends that the island persuade investors to exchange old bonds for new ones with later maturities and lower debt payments.
Persuading investors to take a loss will probably be difficult because the island's constitution stipulates the government must repay general obligations before other expenses, while some securities are backed by sales-tax collections or other specific revenue. OppenheimerFunds Inc., the biggest mutual-fund holder of Puerto Rico debt, previously said it's "ready to defend" its investments.
Swelling Debt
Puerto Rico's debt has swelled from years of borrowing to pay bills. With a cash crunch looming, that option has receded as investors demand higher yields to lend to the cash-strapped government and its agencies.
The island's economy has shrunk every year but one since 2006 as residents left for the mainland, causing the population to decline. Output is projected to contract by 1.2 percent in the fiscal year that began July 1, according to Puerto Rico's Planning Board.
Acosta, the development bank president, said Puerto Rico isn't looking for a "bailout" from Washington. It's currently pushing for legislation that would allow some agencies and public corporations to file for bankruptcy, as cities including Detroit have done. The effort has stalled for lack of Republican support.
"Some people have said that's a bailout for Puerto Rico -- we totally disagree," she said.
Ripples Felt
The island's debt crisis is being broadly felt because Puerto Rico bonds are held by many U.S. investors, who bought the securities because they're tax-exempt nationwide and offered yields higher than comparable debt.
The bonds have traded at distressed levels for two years as investors doubt whether they will be paid on time and in full. General obligations maturing July 2035 and sold in March 2014 at 93 cents on the dollar traded Monday at an average 70.5 cents on the dollar, the highest since July 6, data compiled by Bloomberg show. The debt fell to as low as 66.6 cents on June 30, the day after the governor made the case for a restructuring in a televised speech.
The island faces a $93.7 million debt-service payment due July 15 on Public Finance Corp. bonds. Another $140 million of GDB bonds mature Aug. 1, according to data compiled by Bloomberg.