pursuits
Industry Foes, Fans Pay Tribute to Nintendo's Late President
Edwin Chan and Morwenna Coniam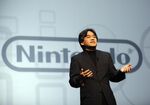 From rivals and partners to stricken fans, tributes to Satoru Iwata poured out on social media worldwide after news of the Nintendo Co. president's death.
In a testament to the former game designer's popularity, executives from Apple Inc. and Microsoft Corp. to Sony Corp. joined grieving fans in remembering the man linked inextricably with the Wii console's success.
Peers and competitors who publicly conveyed their condolences included Phil Schiller, Apple's marketing chief, and Sony worldwide studios President Shuhei Yoshida. DeNA Co. Chief Executive Officer Isao Moriyasu, who struck a development deal with Iwata in March, said in an e-mailed statement that he accepted the news with a heavy heart.
"I'm still deeply in shock," Moriyasu said. "We were just starting to build the new future of games together."
The well-liked executive's passing leaves a vacuum at the top just as Nintendo is extending its stable of games to smartphones for the first time and preparing the new "NX" console.
However, nostalgic fans chose to reminisce about his legacy and how iconic games from Mario Bros. to Legend of Zelda brightened many a childhood. Their online posts helped "Satoru Iwata" become the second-largest trending topic worldwide on Twitter on Monday morning.
"You modeled my childhood, and gave me a place to escape when there was nowhere else to go. You will be missed," tweeted @TheHeatedMo, echoing the sentiments of many other users on the messaging service.
Banana Gag
Some of the more frequently shared Iwata moments included defining quotes from his keynote address at the Game Developers' Conference in 2005, and an image of Iwata holding a bunch of bananas -- part of an attention-grabbing gag that accompanied a game announcement in 2012.
While Iwata famously resuscitated the company with the Wii, he has drawn criticism for six straight years of sales declines and lackluster demand for the follow-up Wii U console. He volunteered for a 50 percent pay cut in 2014.
Wedbush Securities analyst Michael Pachter triggered a stream of vitriol -- some of it profane -- after he tweeted his condolences while noting he had never been a fan of Iwata's leadership.
"I have been consistently critical of Mr. Iwata's leadership, and am not going to pretend I was not. Regardless, am saddened by his passing," Pachter wrote.
Much of Monday's online commentary centered on his polite demeanor, his bona fides as a programmer before taking the helm in 2002, and his efforts to remain accessible through his "Iwata Asks" online interviews with developers.
"On my business card, I am a corporate president. In my mind, I am a game developer," Iwata said at the 2005 conference. "But in my heart, I am a gamer."
Read this next:
Before it's here, it's on the Bloomberg Terminal.
LEARN MORE