How Scott Walker Followed the Reagan Playbook to Win Another Victory Against the Left
His recent legislative win shows the tensions between the conservative right and universities, with their perceived liberal bias, is still alive and well.
By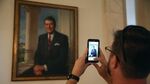 In 1966, before he was a national hero to conservatives and Republicans, Ronald Reagan was an actor-turned-political-hopeful, challenging a two-term Democratic incumbent in California's gubernatorial race. To win, Reagan needed to find something to criticize during Pat Brown's years in office, which had been marked by investment in schools and infrastructure.
He found it at the University of California at Berkeley, where liberal students had been protesting bans on political speech on campus for over a year, shocking an older generation of Americans who disapproved.
Nearly 50 years later, the stakes have changed, but Wisconsin Governor Scott Walker is following the playbook of his idol. As he announces his campaign for president on Monday, Walker enters the race with big wins over two of the state's liberal bastions: the unions, and the University of Wisconsin. 
After winning the right to restrict unions' right to collective bargaining in 2011, Walker signed a budget Sunday that freezes tuition for two years, cuts the university's budget by $250 million, and makes it easier for the majority governor-appointed Board of Regents to fire tenured professors for budget or program decisions. Officials at the university, which has a long history as a center of activism, have said the move will make it harder to "attract and retain the best faculty," and the cuts will lead to 400 layoffs and unfilled positions, according to the Milwaukee Journal Sentinel.
If Reagan's 1966 campaign was centered on fighting the left's counter-culture movement, Walker's most recent legislative win shows that the tensions between the conservative right and universities, with their perceived liberal bias, is still alive and well.
"Beatniks, radicals, and filthy speech advocates"
"The problem that Reagan had was that the Democratic governor, Pat Brown, was really popular," Christopher Newfield, a literature professor at the University of California at Santa Barbara, and author of Unmaking the Public University: The Forty-Year Assault on the Middle Class, said in an interview. Brown had made infrastructure and public-education investment a priority during his two terms, which Californians supported, Newfield said. Reagan couldn't run against free public college, but he could run against Brown's handling of the student protests at Berkeley.
"Wherever I went in the state, the first question and literally the first half-dozen questions were about what I would do about the University of California at Berkeley," Reagan said in an oral history about the campaign, according to Seth Rosenfeld's 2012 book Subversives: The FBI's War on Student Radicals, and Reagan's Rise to Power. 
In March 1966, the Vietnam Day Committee, a liberal political group at Berkeley that opposed the war in Vietnam, held a party filled with drugs and psychedelic rock music in a campus gym. Two months later, Reagan gave a speech in San Francisco tying the party, as well as free speech protests, to his competitor. "There is a leadership gap, and a morality and decency gap in Sacramento," he said. "And there is no better illustration of that than what has been perpetrated...at the University of California at Berkeley, where a small minority of beatniks, radicals, and filthy speech advocates have brought such shame to...a great university." Reagan called for the school to impose a code of conduct on faculty to get them to be better role models. 
The crowd approved, and Reagan went on to win the election. Almost immediately, the Board of Regents (with new members he had appointed) voted to fire Clark Kerr, the president of the university. Reagan also cut the school's budget and advocated for new fees, the beginning of the end of a tuition-free California. And while several Republican and Democratic governors after him would also oversee funding decreases and tuition hikes, Reagan helped undermine public support for the university, Rosenfeld wrote. Reagan "would claim that professors generally did not teach enough, that too much of what they did teach was left-wing propaganda, and that some gave better grades to liberal students," Rosenfeld wrote.
As Newfield put it, "If you can kind of delegitimize higher education's overall impact on society as being politically biased, etc., and just about propagandizing an elite part of the middle class, then you aren't under the same obligation to pay for it."
"To meet the state's workforce needs" 
During an interview in January with Right Wisconsin, a conservative blog, Walker, 47, said "maybe it's time for faculty and staff to start thinking about teaching more classes and doing more work," in part to absorb some of the budget cuts. Walker's initial budget proposal also rewrote part of the school's mission statement, the Wisconsin Idea. The statement says the mission of the school system is to "extend knowledge and its application beyond the boundaries of its campuses" and that "basic to every purpose of the system is the search for truth." In Walker's proposed budget, released in February, those lines were cut, and the goal "to meet the state's workforce needs" was added.
Walker later backtracked and called the addition a drafting error, but not before telling reporters that the changed wording would help "focus" the school system. "Really, the focus would be honed in, in particular, to look at making sure that we prepare individuals in this state—be they fresh out of high school or coming back later in life—for the jobs and opportunities that are available in the state," Walker said, according to the Wisconsin State Journal.
Walker's own history of college attendance and the workforce—he dropped out of Marquette University in 1990—is often noted by the media and sometimes by critics on the left. After former Vermont Governor Howard Dean said in February that he was concerned about Walker's lack of a degree, Walker told Fox News that the critic was "the kind of elitist, government-knows-best, top-down approach we've had for years." The most notable, and controversial, story about Walker's college years came from the Washington Post. "As Scott Walker mulls White House bid, questions linger over college exit," said the headline.
In response to the story, the Weekly Standard's Mark Hemingway wrote that the reason the media and the left were focused on Walker's lack of a degree was because the left is invested in the current higher education system:
This sudden suspicion of Scott Walker seems a product of the fact that higher education is a world that liberals control utterly, and the entire economic model supporting it is on the verge of collapse. If the American people start to get hip to the idea that people such as Mark Zuckerberg and, yes, Scott Walker can succeed without a degree, well, that's one less power base for liberals—and a lot more independently educated voters who are going to think for themselves.
Whether Walker's changes to the University of Wisconsin will help or hurt his overall image among Republican primary voters isn't clear. He has worked to cultivate a reputation for being relatable and someone who takes on and wins tough fights, like his 2011 battle against the unions. 
An April poll by Wisconsin Public Radio hints that Walker's cuts are appreciated by the audience he's trying to court. The poll found that while 64 percent of those polled were against cutting $300 million from the University of Wisconsin's budget (Walker's original request), 58 percent of Republicans supported it.
"A lot of the Republicans were talking about … Walker's strengths being the budget and Walker's strengths being his ability to stand up and make hard choices," said Wendy Scattergood, an assistant professor of political science at St. Norbert College and one of the poll's authors.