Heathrow Airport Perimeter Breached in Protest Over Runway
Kari Lundgren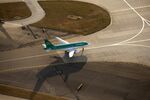 London's Heathrow airport suffered a major security breach as climate-change protesters opposed to the hub's expansion plans penetrated the perimeter fence, causing the cancellation of at least 21 flights.
A dozen activists cut through the wire at 3:30 a.m. Monday before chaining themselves together on Heathrow's northern landing strip, according to campaign group Plane Stupid. The incursion comes less than two weeks after a government-backed study named Heathrow as the best option for a new London runway.
Heathrow was finally operating normally late morning after the northern strip was closed and then limited to short-haul jets. Today's protest is a warning shot for Prime Minister David Cameron, who must decide whether to back the Airport Commission findings and expand Heathrow -- most likely sparking off years of protests by environmental groups and political opponents.
"This would massively increase carbon emissions, exactly when we need to massively reduce them," Plane Stupid activist Ella Gilbert, who took part in the runway invasion, said of the Heathrow growth plan in a statement. "That's why we're here."
Europe's busiest hub said it's working closely with police dealing with the incident, and that passengers should check the status of their flight before traveling to the terminal.
Security Concern
The incursion is also an embarrassment for Heathrow and security forces at a time of heightened concern about the potential for attacks by supporters of Islamic State or other extremists. Some 30 Britons were killed June 26 in a shooting at a holiday resort in Tunisia, the U.K.'s highest death-toll in a terror incident since the July 7, 2005, bombings in London.
Airports across Europe have been reassessing the protection of miles of fencing in the wake of high-profile incidents like the $50 million diamond heist in Belgium in 2013.
"The safety of our passengers and the smooth running of the operation is paramount," Heathrow said in a statement, promising a full investigation of the perimeter penetration. "Anyone who breaks the law and interferes with the safe operation of the airport can expect to face legal action."
Heathrow should get a third runway by 2026, the Airport Commission said July 1, with the 18 billion-pound ($28 billion) project lifting passenger numbers above 135 million by 2050, creating 70,000 jobs and adding 40 destinations,
Anti-Heathrow campaigns led by London Mayor Boris Johnson and Conservative lawmaker Zac Goldsmith have highlighted a likely gain in noise levels and particulate emissions to argue that a new runway should be built in a less populated area.
Plane Stupid, formed in 2005, says on its website that it's opposed to airport expansion of any kind and is seeking a ban on short-haul flights, an end to airport advertising and a "just transition to sustainable jobs and transport."
The group claims to have previously occupied London Stansted, East Midlands and Aberdeen airports and to have shut down the head office of top U.K. discount carrier EasyJet Plc.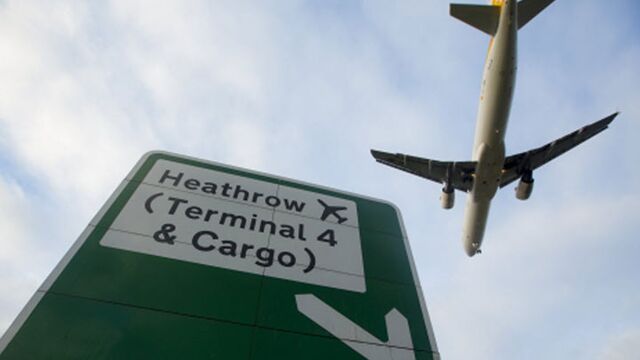 Read this next: