Behind Hillary Clinton's High Praise for a Republican Wall Street Guru
Terry Duffy, whom Hillary Clinton quoted in her economics speech Monday, is a futures exchange operator and, yes, a registered Republican. But he's been on Team Hillary since at least 2008.
By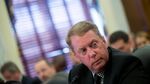 In Hillary Rodham Clinton's speech Monday morning at the New School, the first major address of her 2016 presidential campaign to focus on the economy, she spoke for middle-class workers and against trickle-down policies. Clinton's aides had previously indicated that the focus would not be on Wall Street and the need to regulate the financial industry—she may be feeling the effects of Bernie Sanders's momentum, but she has not suddenly become him—and yet some among the liberal wing of the Democratic party might have found themselves surprised by a suggestion concerning Terrence Duffy, the executive chairman and president of futures market operator CME group and a registered Republican.