Iran Nuclear Talks Come Down to Wire, May Yield a Deal Monday
Jonathan Tirone, Indira A.R. Lakshmanan and Kambiz Foroohar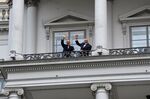 Iran and world powers seem to be on cusp of a nuclear deal, to be announced as soon as Monday, that would bring to an end the 12-year dispute that led to strict economic sanctions on the Persian Gulf nation.
Resolving one of the remaining obstacles to a deal, a political agreement was reached Sunday to lift a United Nations arms embargo, said a senior diplomat involved in the talks. The language of a new UN Security Council resolution is still being drafted.
Other last-minute technical and legal complexities meant an accord was impossible to conclude on Sunday, said four officials at the talks. The draft has swollen in recent days to about 100 pages from 80, according to two of the officials who asked not to be named in line with diplomatic rules.
For the past 16 days, during record marathon talks at Vienna's Palais Coburg, the diplomats have regularly claimed to be close to a deal. This time, after three missed deadlines, officials said a deal was almost complete. Negotiators have given themselves through Monday to finish.
Speaking from his balcony at the hotel on Sunday, Iranian Foreign Minister Mohammad Javad Zarif told reporters another extension in the talks with six other nations wasn't contemplated.
'Tough Things'
U.S. Secretary of State John Kerry said Sunday he and Zarif had a "very good" meeting and once again voiced optimism that an agreement was within reach. "We're getting to some real decisions," Kerry said. "So I will say -- because we have a few tough things to do -- I remain hopeful. Hopeful."
Iranian President Hassan Rouhani, in Tehran, seemed upbeat, saying only the final "few steps" remained to clinch a deal. "We have come a long way and now we need to reach the peak, and we are very close to it," Rouhani was quoted as saying by the state-supported Iranian Students News Agency.
Treatment of the UN arms embargo has been one of the biggest divisions among the six world powers negotiating with Iran. Russia has joined Iran in calls to lift the embargo, imposed in 2007. Doing so would make it more difficult for U.S. President Barack Obama to win congressional approval, at a time many lawmakers are already unhappy with the possible accord.
"It's unsurprising that the Russians would seek to strengthen a rabidly anti-American, destabilizing force in the Middle East by allowing yet more military weaponry to flow into Iran," Senator Ted Cruz of Texas, a candidate for the Republican presidential nomination, said in an interview.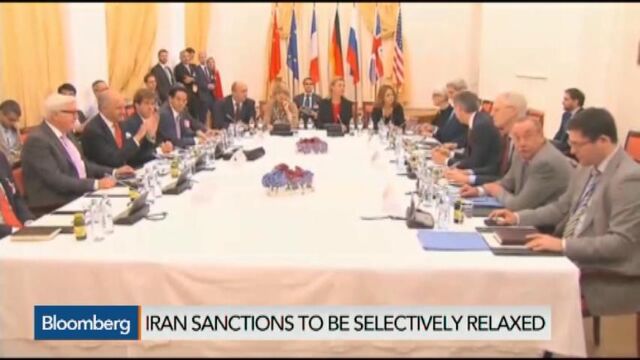 Republicans Bristle
An agreement would lift economic sanctions that have hobbled Iran, holder of the world's fourth-largest oil reserves and second-biggest natural gas stockpile. In exchange, Iran's ability to pursue nuclear weapons, should it decide to do so, would be verifiably restricted.
In Washington, Republican leaders in Congress on Sunday said a potential accord with Iran will let the Islamic Republic continue working on a nuclear weapon, and faced a tough fight to win legislative approval.
House Speaker John Boehner said Obama has backed away from guidelines set for the talks, and Senate Majority Leader Mitch McConnell said "a very hard sell" will be needed for a deal worked out by the U.S. and five other countries to pass Congress.
Jovial Photos
Philip Hammond, the U.K. foreign secretary, left Vienna Sunday, planning to return Monday, just as Russian Foreign Minister Sergei Lavrov arrived in the Austrian capital, having said last week that he'd rejoin talks should compromises be reached.
Iranian media posted jovial photographs of Zarif and his team smiling over stacks of documents, a sign that the Iranians were confident of concluding the agreement.
Iran's parliamentary speaker, Ali Larijani, said negotiations were headed in the right direction.
"I am partly in the know that some challenges remain but overall I believe that it's moving forward and in the current context an outcome can be reached," Larijani said when asked by INSA about the next 24 hours of talks.
Sunday night in Vienna, Kerry met for a working dinner with the foreign ministers of the EU, France, Germany and Russia, as well as senior representatives from China and the U.K.
For more, read this QuickTake: Iran's Nuclear Program