Yale Building Honoring Pro-Slavery Politician Comes Under Fire
Chris Staiti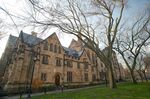 Yale University students are asking the Ivy League school to rename a residential college that honors John C. Calhoun, the former U.S. vice president who touted slavery as a "positive good."
More than 700 students and alumni have signed an online petition seeking a name change for Calhoun College, which houses undergraduates at the school in New Haven, Connecticut.
"John C. Calhoun, for whom the college is named, was respected during his time as an extraordinary American statesman," the students said in the petition. "But he was also one of the most prolific defenders of slavery and white supremacy in American history."
Students around the country are pushing colleges to reexamine symbols of racism on their campuses. The University of North Carolina said in May it will change the name of Saunders Hall, named for Ku Klux Klan leader William Saunders. Duke University in Durham, North Carolina, renamed a dormitory last year that honored white supremacist former Governor Charles Aycock, prompting East Carolina University to rename its own Aycock Hall.
Calhoun, a secessionist and senator from South Carolina, served as vice president under John Quincy Adams and Andrew Jackson. He graduated from Yale in 1804.