The Trouble With Twitter's CEO Search
Three former chief executives are sitting on the board
By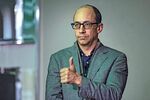 When Dick Costolo stepped down as Twitter's chief executive officer in July, he stayed on the board, making it a lot harder to find his successor. That's because Costolo sits next to board seats occupied by Jack Dorsey and Evan Williams, two of the company's co-founders and its first two chiefs. The three men have notoriously complex and combustible relationships. Dorsey is also serving as Costolo's interim replacement.
Three ex-CEOs on a company's board, two of them founders, is "probably unheard of," says Jeremy Levine, a partner at Bessemer Venture Partners. Levine says Twitter's recruiting firm, Spencer Stuart, may have trouble finding someone willing to take over and attempt to juice the company's flagging user growth as long as all three remain on the board, especially if they try to boss around the newcomer. "Some CEOs will always be CEOs," he says.
As Twitter's head for almost five years, Costolo presided over the company's successful initial public offering in 2013 and its growth to about 302 million users. He's also watched that growth ebb, outpaced by Facebook subsidiaries Instagram (which reported topping 300 million users in December) and WhatsApp (800 million). Some leadership turmoil, for good measure: Twitter has a different chief financial officer, head of engineering, and head of product than it did early last year. It's had five product heads in five years.
The current product chief is about to roll out major changes made under Costolo's direction that are meant to make Twitter easier for new users. These include grouping tweets about live events and removing login requirements from certain features. In a June speech at the Bloomberg Technology Conference in San Francisco, Costolo said that while he won't get in the new CEO's way, that person will have to be "resilient" and "self-aware."
Costolo has received his own share of input from Dorsey and Williams, who took Twitter's top job in 2008 and 2010, respectively. Dorsey eats dinner with Costolo most Tuesdays and successfully lobbied him to acquire the video services Vine and Periscope. Williams, like Dorsey, regularly calls prospective hires and has addressed the staff at a companywide meeting.
Twitter's CEO search committee says Dorsey isn't a viable choice for permanent chief as long as he's also running Square, the mobile payment processor.
Spencer Stuart, which helped bring Marissa Mayer from Google to Yahoo!, declined to comment for this story. Given the executive baggage, the headhunters may wind up back at Twitter's San Francisco headquarters anyway, says Nada Usina, head of technology executive searches at rival recruiter Russell Reynolds Associates. "With a multifounder, multi-CEO dynamic, it is likely that an internal candidate may end up as a solution," she says. At Microsoft, a lengthy CEO search ended up putting Satya Nadella, an in-house veteran of more than 20 years, in the big chair, with Bill Gates and Steve Ballmer looking over his shoulder. (Ballmer has since left the board.)
At Twitter, Costolo has publicly praised the leadership of Anthony Noto, the CFO, and Adam Bain, the head of revenue. Noto has said privately he's not campaigning to be CEO but is still in the running, according to a person familiar with the matter. Bain told CNBC in June that he's focused on his job and is happy with Dorsey at the helm. He's the board's top choice so far, say three people familiar with the matter.
Neither man has CEO experience. Noto was a banker at Goldman Sachs before running Twitter's initial public offering; Bain ran Fox's online ad network before creating Twitter's ad business.
Whomever the board chooses ought to kick a few of the cooks out of the kitchen, says Jason Lemkin, a managing director at Storm Ventures. "Any aggressive, take-charge CEO will insist that at least two of them step down," he says. Former CEOs, he adds, ought to stay on as "an adviser, a mentor, as asked. Not the new CEO's boss."
The bottom line: Twitter's hunt for Costolo's successor is complicated by a pileup of ex-CEO directors, including Costolo himself.
(Corrects timing of Costolo board seat.)
Before it's here, it's on the Bloomberg Terminal.
LEARN MORE