Immigration Case Judge Questions 'Disingenuous' Work Permits
Della Hasselle and Andrew Harris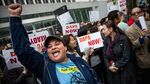 A key portion of President Barack Obama's immigration plan was questioned by two of three appeals court judges deciding whether to let it take effect.
U.S. Circuit Judge Jennifer Walker Elrod, a Republican appointee, sharply quizzed administration lawyers Friday about a provision that would give as many as 5 million undocumented immigrants legal status in the U.S.
The plan "doesn't give work authorization but gives prelude to work authorization," Elrod said. "Isn't that kind of disingenuous?"
The administration is asking the New Orleans appeals court to set aside a judge's order that put the program on hold while he considers whether the president has the power to change immigration policy unilaterally. The 26 states suing to block the plan argue that allowing the immigrants to remain in the U.S. while the case is being decided would be irreversible, making any later victory for them meaningless.
Waiting for a final decision on the president's authority might kill the program by delaying it until the end of Obama's term, or even after it.
Illegal immigration is already a central issue in the early stages of the 2016 presidential race with Republican contender Donald Trump's recent comments that many who cross the U.S. border from Mexico are drug dealers and rapists.
Harsh Rhetoric
While Republican National Committee Chairman Reince Priebus has urged Trump to tone down his rhetoric, the real estate mogul has surged to the fore of some presidential polls.
As the two-hour appellate court hearing progressed, people backing the president's immigration policy demonstrated outside, their chants audible in the courtroom.
On Tuesday, the Brownsville, Texas, federal judge whose order is being appealed threatened to cite Homeland Security Secretary Jeh Johnson with contempt over his department's failure to immediately reclaim 2,000 extended work authorizations issued after the program was ordered halted.
Thursday, the agency disclosed it had mistakenly issued 500 additional permits after the order was issued.
The administration's deferred-action initiative would block deportations and provide work permits to immigrants who have been in the country for five years, if they were brought to the U.S. as children or have a child who is a citizen. Those seeking to qualify must pass a criminal background check.
The suing states, led by Texas, argue the policy change is tantamount to lawmaking, which is the job of Congress.
Work Eligibility
Assistant U.S. Attorney General Benjamin Mizer was also questioned Friday by U.S. Circuit Judge Jerry Smith, another Republican appointee, about whether work eligibility for those who enter the country unlawfully amounted to something more than the government's traditional ability to prioritize who can stay and who must go.
Those policies put the undocumented immigrants "one step ahead in being eligible for lots of potential benefits," Smith said. "It seems like it's a lot more than prosecutorial discretion."
Mizer replied that deferred action by the U.S. doesn't automatically provide eligibility for such benefits.
It only "eliminated one barrier," he said.
Texas Solicitor General Scott Keller told the panel the suing states will be harmed if the president's policies are allowed to take effect, as they'd result in undocumented immigrants gaining lawful presence in the U.S and becoming eligible for emergency Medicaid and other health-care benefits.
Economic Well-Being
"States can protect the economic well-being of their citizens," Keller said, addressing contentions that those he represents can't show they deserve compensation for an injury.
The president's immigration plan doesn't create any new benefits, said Marielena Hincapie, executive director for the National Immigration Law Center, who attended Friday's hearing.
Immigrants would "be eligible later" for benefits such as Medicaid and Social Security, if they meet other criteria under state and federal laws, Hincapie said.
U.S. Circuit Judge Carolyn King, the lone Democratic appointee to the panel, was skeptical.
The states aren't "contesting their ability to stay here. They can stay," King said. "What you don't want them to do is able to work."
"That's the key," she added.
Mizer conceded that lawful presence would be the "inevitable consequence" of the plan.
He also told the judges, "The term lawful presence doesn't have a single meaning in immigration law. It certainly doesn't have some magical benefit as implied by Texas."
The appeal is Texas v. U.S., 15-40238, U.S. Court of Appeals for the Fifth Circuit (New Orleans). The lower-court case is Texas v. U.S., 1:14-00254, U.S. District Court, Southern District of Texas (Brownsville).