Greece Will Deal or Default Soon. What Next?
The what-ifs for Greece, and its creditors
By , , and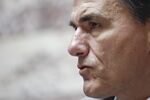 Markets are reacting positively after Greek Prime Minister Alexis Tsipras agreed to most of the demands made by creditors in exchange for bailout funds. Analysts at Royal Bank of Scotland say a Greek debt deal is now more likely and Deutsche Bank and Daiwa see the latest developments as positive.