markets
For Big Miners, the Pain's Only Likely to Get Worse
Overproduction and a weakening Chinese economy could put dividends at risk
By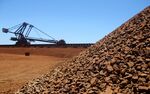 Miners have had a horrible run.
Even after a bounce-back over the past two days, the Bloomberg World Mining Index of 79 producers has tumbled 61 percent from a 2011 peak as prices for iron ore, coal, copper, and other industrial metals collapsed. 


It could get much worse yet, because supply will keep rising for another two years as China's deteriorating property sector cuts demand for commodities, according to Richard Knights and Ben Davis, analysts at Liberum Capital in London,
Here's a chart from Knights and Davis showing the growth in copper supply:

And here's iron ore: 

"Damaging fundamental drivers are yet to play out; demand conditions are deteriorating, supply in key commodities is accelerating," the analysts wrote in a note Friday. "The deterioration in Chinese commodity demand will accelerate in  the next 12 months."
Mining dividends could be at risk, something that would destroy fragile trust with investors who've been critical of overinvestment during the mining boom.  

The rout in commodity prices will make covering dividend payments by the big miners, such as Rio Tinto Group, Glencore, and Anglo American, more difficult, according to Liberum.



"At spot commodity prices and current capex guidance, none of the majors covers their 2016 dividend with cash," Liberum said.
"Even if capex could be cut to sustaining levels in this short period, only Rio covers its dividend. We expect further pressure on both iron ore and copper prices in the next six months, which makes balancing the equation even more difficult."
Before it's here, it's on the Bloomberg Terminal.
LEARN MORE